Autism Spectrum News Community Events Calendar
Promote Your Autism Conference, Open House, Workshops, Training, Webinar, and More!
Interested in listing your event? Please contact us.
All paid event listings will be shared to the ASN social media channels.
We reserve the right to deny event listings promoting unsafe/unproven treatment practices.
---
Spring 2021 Chapel Haven Virtual Open House
April 10, 2021 @ 11:00 am - 12:00 pm EDT
Register now for Chapel Haven's Virtual Open House on April 10, 2021 at 11:00am Eastern!
Join us to start down the path to an independent and satisfying adult life! Meet students and parents who will share their experiences and answer your questions. Take a virtual campus tour and gain an overview of our REACH and Asperger Syndrome Adult Transition (ASAT) programs. We also offer many services and programs a la carte! Learn about Chapel Haven from the comfort of your home and bring your son or daughter too!
Pre-registration is kindly requested. Upon registering, we will send you the Zoom link to join us.
Register with this link: http://events.constantcontact.com/register/event?llr=ay6nyvdab&oeidk=a07ehkve7qy643ae225
Why join us for our open house? In survey responses, prospective families tell us the time was well spent:
"I got a really good feeling from each staff member who spoke during the virtual tour, and I have been highly impressed with the timely responsiveness to my various questions on e-mail. Thank you. So important for this good feeling as it lends itself to entrusting our children to Chapel Haven."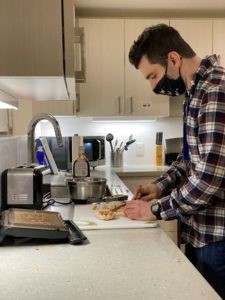 "Wonderful facility, where I believe my son could thrive! Well done."
"I'm so impressed with all the new buildings and enhancements since I toured campus last—it looks lovely! I can't wait to see it in person."
Chapel Haven Schleifer Center has been serving adults with a wide range of profiles, including autism, Asperger Syndrome, Down Syndrome, intellectual disabilities, Cerebral Palsy and others, since 1972. We are internationally accredited and also are approved through the State Department of Education. In 2017, we undertook a $45 million campus transformation. Our new facilities are state-of-the-art and designed with our adult population in mind.
We will also hold a virtual open house at 11 a.m. EST on Saturday, March 13. Pre-registration is kindly requested. You can register for that open house here
Questions? Contact us at admission@chapelhaven.org