Autism Spectrum News Community Events Calendar
Promote Your Autism Conference, Open House, Workshops, Training, Webinar, and More!
Interested in listing your event? Please contact us.
All paid event listings will be shared to the ASN social media channels.
We reserve the right to deny event listings promoting unsafe/unproven treatment practices.
---
Virtual Event – Yes She Can, Inc. 2020 Advocates for Adults with Autism Awards
September 30, 2020 @ 9:00 am - 10:00 am EDT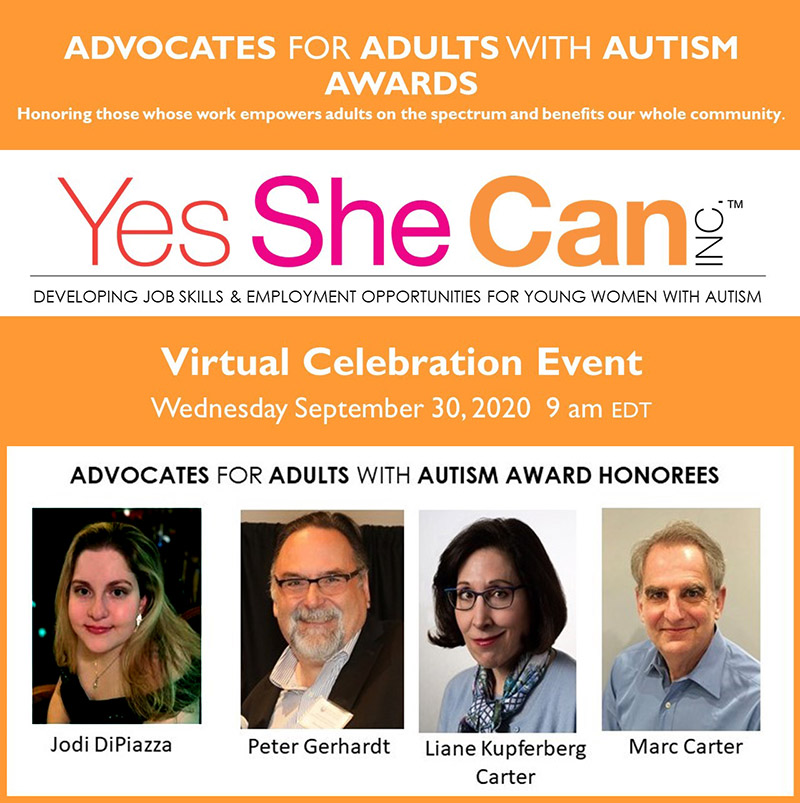 Thanks to our generous sponsors, this event is FREE.   Please consider ordering our breakfast package for only $20.
RSVP Here: https://yesshecaninc.org/aaaa20/ 
Honorees
JODI: a gifted musician, composer, vocalist and performer. Diagnosed with autism at age 2, at 18 she is a self-advocate .
PETER: Executive Director of the EPIC school in New Jersey.  He is a pioneer in identifying and focusing on the needs of teens and adults with ASD.
LIANE: parent of a son with ASD, essayist and award-winning author of her memoir, Ketchup is My Favorite Vegetable
MARC: parent with Liane, community leader of programs promoting equity for people with ASD.
Yes She Can Inc., a non-profit founded in 2013, is dedicated to helping young women with autism and related disabilities develop transferable job skills and workplace social skills – through authentic work experience.  We serve teen girls in transition from high school to adulthood and young women with autism spectrum disorders in an inclusion setting at Girl AGain boutique.