Jayson Valles recalls the first time he saw Cecilia Primera. That was 12 years ago during AHRC New York City's Sunday Trip program for individuals with intellectual and developmental disabilities. He knew immediately that Cecilia was different than other women. He introduced himself to her and asked her name. "She is one of a kind. I'm always thinking about her and she's thinking about me."
Today, Jayson and Cecilia are engaged.
Engagement Surprises Parents
"Jayson loves Cecilia and he wanted to buy her a ring; a good ring," said Gloria Pizarro, his mother. However, she didn't realize that Jayson, who has autism, would propose on Feb. 19th, and post a video on Facebook Live and Instagram after Cecilia accepted. Family and friends began calling Pizarro, offering congratulations. The video was also shown during AHRC NYC Foundations Annual Thurman Munson Awards Dinner in March.
After walking across the Brooklyn Bridge with Cecilia, he proposed to her at Brooklyn Bridge Park. "We are going to be happily married," Jayson said.
While Cecilia did not wish to be interviewed, her mother, Myrian, said she was surprised to learn about the couple's engagement. "With the video, it was much more official," Primera said.
The more they learn about Jayson, the more impressed Cecilia's parents grow. "As long as she's happy, they treat each other well, and they respect one another, we're happy," Primera said.
Cecilia's mother admires Jayson's independence. She has seen her daughter's travel skills improving since she and Jayson began dating. They go out every Saturday, usually venturing to various parts of New York City – walking across the Brooklyn Bridge, visiting Times Square, or taking the Staten Island Ferry. They still meet during AHRC NYC's Sunday Trips.
Primera recalls escorting Cecilia to her first Sunday Trip program. "Jayson was the only one there who introduced himself and welcomed Cecilia to the group. From there on, they became friends," Primera said.
"It would be nice if they eventually married, but I'm not sure how that would look," she said, adding that Cecilia, who has an intellectual disability, requires a lot of support at home. "What I really want for her is to become more independent."
Jayson is a talented artist who participates in AHRC NYC's ArTech Collective program. He also participates in AHRC NYC's Bronx Day Habilitation Without Walls program. He lives with his family in the Bronx and has many relatives and friends in the borough.
Kecha Perrin, now a Certified Support Specialist (CSS) with Bronx Day Habilitation Without Walls, has known Jayson for four years. "Jayson is very welcoming," she said. "He's easy to get along with and extremely respectful. And, with every opportunity, he talks about his fiancé."
Cecilia lives with her parents in Manhattan. With only one cousin in the city, Primera said they have relatives in Venezuela. "I worry about that," Primera said. "I want to make sure she has something in the future that's stable for her."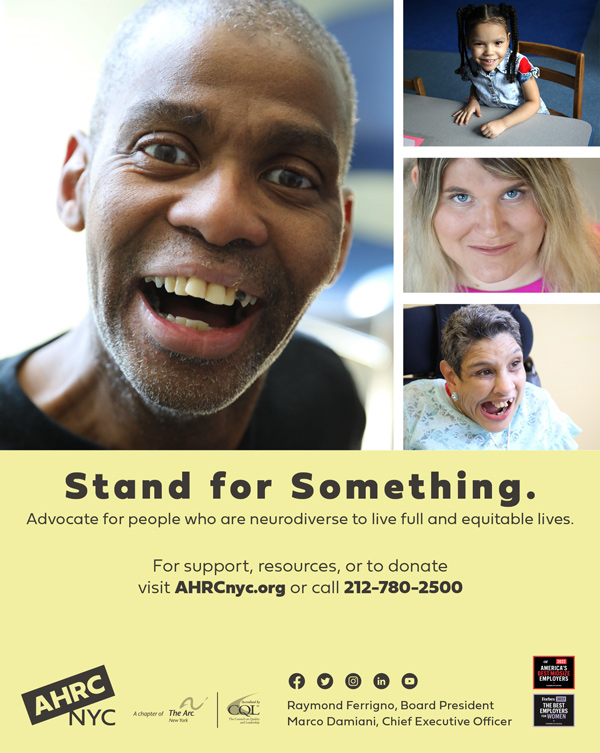 Marriage Penalty
Between 5-9% of people with autism marry, according to a study.1 One of the biggest challenges they and others with intellectual and developmental disabilities (IDD) face is what's known as the marriage penalty. People with disabilities can lose some of their benefits if they marry someone without a disability who earns a typical income. If two people with disabilities marry, they both could lose 25% of their SSI benefits.
Earlier this year, U.S. Rep. Jimmy Panetta (CA-20) introduced a bill2 which would allow people with disabilities to marry without penalties.
U.S. Sen. Sherrod Brown (D-OH) introduced a bill3 in June of 2021 that also would allow people with disabilities to marry without losing critical benefits.
"The marriage penalty comes up a lot because people's rights are being violated," said Matthew Estep, AHRC NYC's Self-Advocacy Advisor. "No one wants to be told you can't get married (without risk to his/her benefits)."
When Estep raises the topic with students in AHRC NYC's Melissa Riggio Higher Education Program, the first reaction is "why?"
"The fundamental limiting factor in the lives of the people we support is not their disability, as much as it is a benefits-support system that is based on poverty," he said.
To get around the marriage penalty, many people with disabilities hold a celebration of love or commitment ceremony. It may look and feel the same, but in the eyes of the law it is not a marriage.
Learning Opportunities Continue
Pizarro is trying to explain budgeting and social security to Jayson. While her son likes to get coffee and a sandwich at Dunkin Donuts on a regular basis, she explains that making the coffee and sandwich at home is much less expensive. With a background in social work, she's accustomed to working on these and other skills. Pizarro and her husband have helped Jayson develop life skills, such as cleaning the apartment, doing laundry, making his bed, and cooking.
Jayson is fluent in social media, posting cooking videos on Facebook Live. Calling himself "Mr. Hollywood J," he recently described the teriyaki rice and fried dumplings he had made. "I made them myself," he says proudly on the video. "Nobody's here. It's only me. I'm a grown man and I'm independent. I'm fine by myself and I'm happy." As he continues to eat his meal, he speaks his native Spanish at times. Cecilia posts a message, "I love you, my fiancé." Jayson responds on video, "I love you, too, my fiancé."
Recognizing boundaries is another area Pizarro is trying to explain to her son. On social media, not everyone watching is a friend, she said. She wants Jayson to understand that privacy is important.
Pizarro sees marriage as a long-term goal for Jayson. "Adults with intellectual and developmental disabilities have a right to live together and can live independently with some support," Pizarro said. "They have a right to be together with someone they love. He loves her very much."
"Jayson is very sweet," Primera said. "He has a good heart and he's very careful with her."
AHRC New York City is the largest organization supporting children and adults with intellectual and developmental disabilities (I/DD) in New York State. Its mission is to advocate for people who are neurodiverse to lead full and equitable lives. Its vision is to help create a socially just world where the power of difference is embraced, valued, and celebrated. AHRC NYC was founded by parents of children with disabilities more than 70 years ago, when supports and services were unavailable to meet their children's needs. For more information, visit AHRCNYC.org.
Footnotes
International Journal of Culture and Mental Health. (2021). Marriage and family life in people with developmental disability. [online] Available at: www.tandfonline.com/doi/abs/10.1080/17447140903205317