The Autism Society of America is thrilled to announce David Minot, Founder and Publisher of Autism Spectrum News and Executive Director of Mental Health News Education, as the recipient of the prestigious 2022 Daniel Jordan Fiddle Foundation Leader in Adult Autism Award, presented at the 2022 Affiliate Conference. David's passion, advocacy, and collective work have exemplified the Autism Society's mission and positively impacted the Autism community.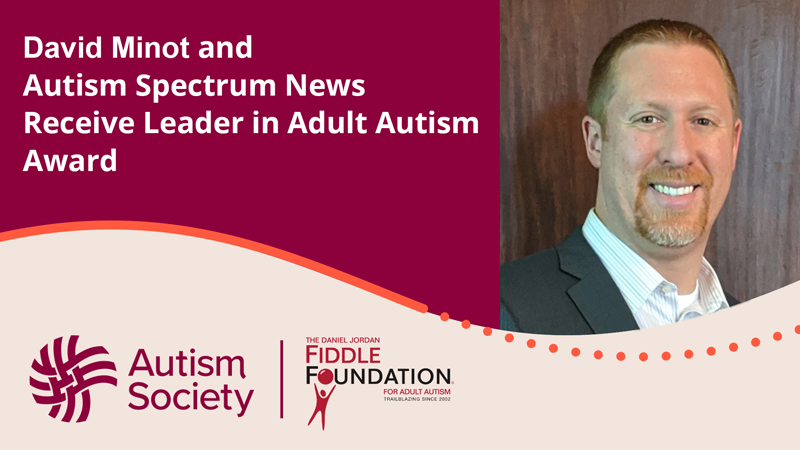 The Daniel Jordan Fiddle Foundation Leader in Adult Autism is given annually to an individual, business, or organization that exemplifies a core value of The Daniel Jordan Fiddle Foundation mission to inspire society by sharing success stories focused on the diverse strengths and talents of Autistic adults. Last year's award was given to United States Senator Robert Menendez.
"The Daniel Jordan Fiddle Foundation is proud to honor the journalistic inspiration of Autism Spectrum News in sharing vital information on topics impacting the lives of Autistic adults and particularly creating a platform of expression for Autistic adults," said Linda J. Walder.
"The Autism Society applauds Autism Spectrum News' efforts to showcase diverse and varied experiences from Autistic adults, and their commitment to featuring articles written by Autistic contributors," shared Christopher Banks, President and CEO of the Autism Society of America. "Autism Spectrum News exemplifies leadership in journalism that is vital to advancing acceptance for the Autism community."
David Minot, Founder and Publisher of Autism Spectrum News, commented, "I strongly believe in using Autism Spectrum News as a forum to give Autistic adults a voice. I want to ensure that the neurotypical community sees into the lives of Autistic adults to understand their perspective, their experiences, and to celebrate neurodiversity. Autism Spectrum News is changing how people think about Autism by advocating for acceptance, not just awareness, with equal access, rights, and opportunities."
Autism Spectrum News is a trusted source of education, information, advocacy, and resources for the Autism community that addresses many important topics including Autistic adults and the aging population. This publication inspires knowledge about the strengths of Autistic adults and the challenges they may experience, and shares science-based research that positively impacts the lives of the diverse Autism community.
"I started Autism Spectrum News 15 years ago with a mission of improving the lives of autistic individuals and supporting their families and the professional communities that serve them by providing a trusted source of science-based information, education, advocacy, and a roadmap to quality resources," said David. "Autism Spectrum News actually began as a newspaper-style quarterly publication, and last summer we made the transition to become online-only, allowing us to provide our extensive library of over 1,200 articles and 60 back issues to the community to read and share for free. In fact, a fabulous autistic young adult named Vincent was instrumental in this transition as we worked together to create article posts from PDFs of back issues."
"From the beginning, our esteemed Editorial Board, of which Linda is a founding member, has worked to ensure that 100% of the information published promotes safe and proven-effective interventions and treatment methods that guide our readers in the right direction. It has always been my goal to learn from and advocate on behalf of autistic adults who are all too often marginalized in our society as "less than." I am proud to say that we have published many articles written by autistic adults over the last 15 years, covering many important topics, some of which include:
Their personal journey to independence
Autistic contributions to the workforce
Promoting self-advocacy
Personal stories on receiving an autism diagnosis
Life experiences with dating, relationships, and marriage
Coping with depression and anxiety
Explaining that language matters because autism is a part of who they are and not an illness that can be cured
Gratitude towards family members and caregivers for supporting them in their younger years
And we'll continue to feature important stories and articles like these from autistic adults."
David concluded, "I want to acknowledge the hundreds of authors that have volunteered their time to contribute to the publication. Autism Spectrum News is a collaborative effort and for me it's a labor of love. Thank you again for your recognition of my work. I'm so honored to receive this award and I consider myself lucky to be in a position where I can make such a positive impact in the lives of so many autistic adults."
If you or someone you know would be interested in submitting an article to Autism Spectrum News, please take a moment to review the Editorial Calendar and Article Submission Guidelines and email your proposed article topic to David at dminot@mhnews.org.