One of the most vivid memories I have of growing up is when I had my first period. I was 12 years old, and I can still see my mother standing in the bathroom doorway, her face filled with amazement and delight.
"Amy, you're a woman now!"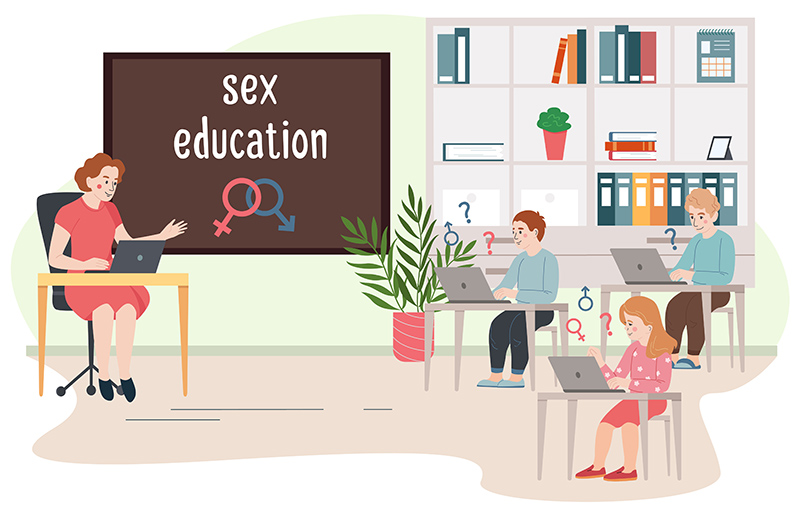 Confusion etched itself in lines across my face, mixed with the acute sense of shame only a preteen girl can feel. As it turned out, I started my period several days previously, but it was only then that I'd become aware of what had happened.
One year earlier, I was diagnosed with autism level 1 (or Asperger's syndrome, as was the label then), and the sense of disconnection I felt from my own body was only amplified by the lack of understanding I had, both about who I was and the physical and emotional changes I was going through. Most of what I learned about sexuality in those middle school years came from my peers, who were less concerned with helping me and providing accurate information and more interested in using my naivete to turn me into a spectacle. I had so many burning questions about sex and puberty and womanhood that no one – not my parents or my teachers – was willing or able to honestly answer.
Over the past two decades, our understanding of autism has grown significantly, yet there is still a reluctance on the part of both parents and professionals to acknowledge autistic people as sexual beings. Stereotypes of autistic people as asexual have further inhibited this dialogue, with popular cultural preferring to see autistic adults as uninterested in sex. Further, there is a dearth of research in this area, which reinforces societal taboos and stigma around autistic sexuality and perpetuates the idea of teens and adults on the spectrum as permanent children. It is for all of these reasons and so many others that I became inspired and determined to begin the work of creating a sex education curriculum for adults on the autism spectrum.
In 2020, I started my position as a Relationship Coach in the Rutgers Center for Adult Autism Services. It has become clear to me through my work at Rutgers and as a consultant and mentor through my own business, A.S.C.O.T Consulting, that so many of the struggles I had in my young adult years – from sexuality to self-esteem to abuse – are still being experienced by autistic young adults today, at Rutgers and beyond. Navigating the social and emotional terrain of relationships and dating remains a tremendous challenge, and the need for a comprehensive, medically accurate sex education curriculum has never been greater.
When NEXT for Autism announced the launch of its Color The Spectrum Community Grants Program in the summer of 2021, it seemed like the perfect opportunity to begin this much-needed work. Together with Dr. Vanessa Bal, Director of the Lifespan ASD Lab in the Graduate School of Professional and Applied Psychology (GSAPP) and the Psychological Services Clinic in the RCAAS, we applied for and received a $25,000 grant to bring the Adult Autism and Sexuality Kit (AASK) to life.
As we have developed this curriculum, one of the primary goals of the Adult Autism and Sexuality Kit has become building a foundation for future discussions. By adapting existing lesson plans from ANSWER, a national sexuality education organization established at Rutgers University in 1981, and following the guidelines set forth in the National Sexuality Education Standards, Second Edition (NSES), we will create a starting point to ensure that autistic adults receive information and achieve competency in seven main topic areas.
But who determines which topics are most important, and what the priorities should be in a sex education curriculum for autistic people? For too long, the services and supports accessed by autistic individuals have been developed without input from our community. What sets the AASK apart, however, is that it is a sex education curriculum that will be designed by and for autistic people. As Principal Investigator, I am grateful and excited to bring my personal experiences as an autistic adult to this project, as well as other autistic stakeholders who will act as consultants on the project and help us to identify priority areas.
Through this collaboration, the AASK curriculum will be a living document that is directly informed by the population it is meant to serve. Our knowledge of sexuality is ever-changing, as is our knowledge of autism, and rather than have the AASK sit on a shelf, immutable and fixed like the encyclopedias of old, our aim is to update this curriculum in tandem with our growing knowledge and the invaluable input of our stakeholders. Once the curriculum has been pilot tested and revised, our final goal is to broadly disseminate the AASK, both to professionals working in the field and the wider public.
Adolescence and young adulthood is a difficult and unpredictable time, even more so when autism is part of the equation. When I think of that 12-year-old girl having her first period, I remember how hard it was to survive that time. I remember that girl's confusion, her loneliness, and her despair at believing that she was the only one who felt that way. A sex education curriculum made by and for autistic people could have served as an incredible guide for navigating my trickiest teenage trials and would have shown me that it was okay to ask questions and to be who I was.
It is my hope that, when our work is done, the AASK will make a meaningful difference in the lives of autistic people and their loved ones and will show every autistic teen and young adult that it is okay to be exactly who they are.
Learn more about Amy Gravino at www.amygravino.com and about the RCAAS at https://rcaas.rutgers.edu/. Amy can be reached via e-mail at amy.gravino@rutgers.edu.