A new way of delivering healthcare to people with intellectual and developmental disabilities (I/DD) has come to New York. Launched in September, Premier HealthCare's Telehealth Services enables patients with autism and other types of I/DD to access mental and physical health services without a trip to a doctor's office or a break in their daily routines — both of which can be disruptive and unnerving for people with I/DD.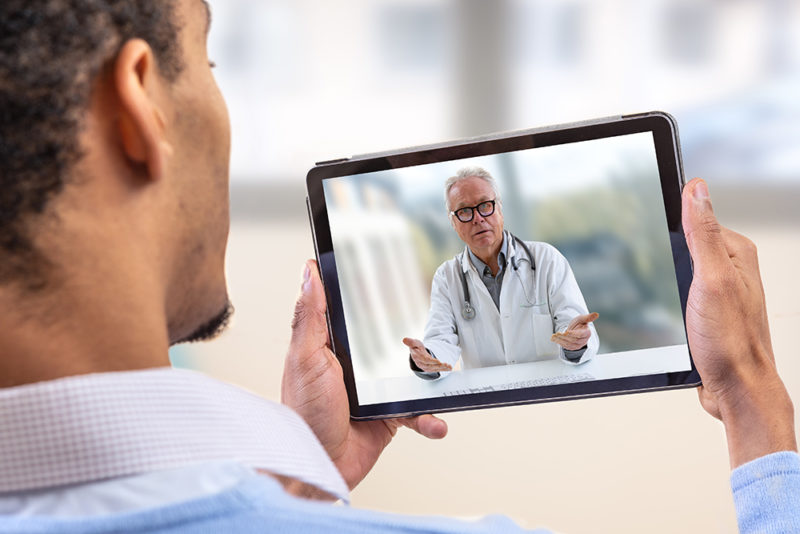 Piloted in six residences, Premier's Telehealth program is the first service of its kind for people with I/DD in New York State.
"For the people we support, this is a game changer," said George Contos, CEO of YAI, a network of I/DD agencies which includes Premier. "By removing obstacles that often hinder people with I/DD from accessing medical and mental health services, we can meaningfully improve outcomes for one of the most underserved segments of our population."
Using the Telehealth Services portal on a computer and assisted by specially trained staff, patients attend virtual appointments with mental health, primary care, and neurological specialists. Medical specialists use video chat to speak with patients while a nurse or other accredited staff member stands by to check the patient's vitals and report symptoms. After the appointment, the doctor or specialist uploads patient plans, diagnoses, and notes to a secure portal that can be accessed by the patient's direct support staff within 24 hours.
In a 2018 survey conducted by Medpod, a telehealth company that creates portals like those used by Premier, 93 percent of direct support staff reported reduced anxiety in patients with I/DD who switched from in-person to virtual doctor's visits.
According to Hope Levy, Premier HealthCare's Executive Director, enabling patients with I/DD to access medical care from the comfort of home has a profound effect on their quality of life.
"For people with I/DD – especially those with behavioral challenges – having to travel an hour to and from a clinic can cause a lot of stress," Levy said. "Not only does this harm their overall wellbeing, but it can exacerbate a lot of adverse behaviors that staff must contend with, too. Telehealth dramatically decreases these challenges, allowing for more consistent care."
YAI is joined in this innovation by Quality Services for the Autism Community (QSAC), which operates three of the participating residences in the Bronx and Queens. Though it's only been a month since Premier's Telehealth Services were rolled out to YAI and QSAC residences, Cory Polshansky, President and COO of QSAC, said the benefits are already apparent.
"We've seen a significant positive impact on the people we serve," he said. "They no longer have to leave their day program or job early or miss out on recreational activities due to health-related appointments. Moreover, the anxiety surrounding getting to and from clinics and sitting in waiting rooms has been eliminated."
Yvonne Patrick, YAI's Bronx Regional Director, agreed.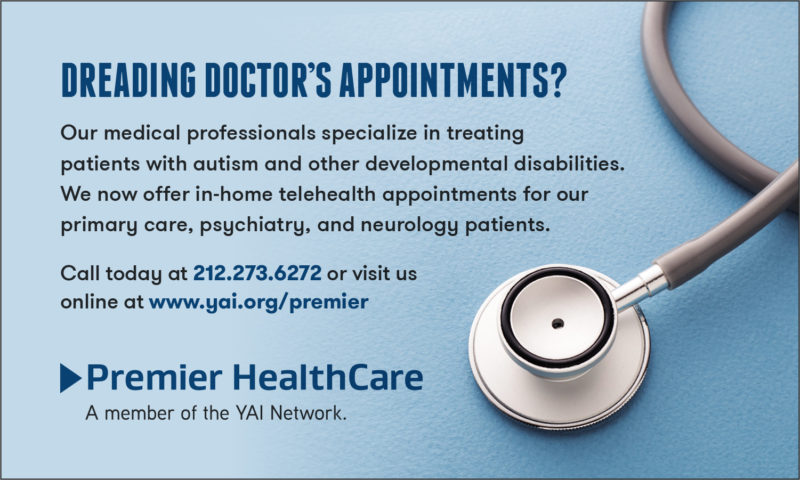 "When we began using the telehealth portal at three of our residences in the Bronx, the differences were striking," she said. "Residents who previously had a lot of fear around going to appointments told me that completing their doctor's visit at home made them feel much more relaxed."
Premier HealthCare's Telehealth Services portal is available to all Premier patients, regardless of whether they live in the community or in a residence. Telehealth Services are covered by Medicaid, Medicaid Managed Care, Partners Health Plan, and most major private insurers.
If you or someone you know would like to learn more about Premier HealthCare's Telehealth Services, please contact Premier HealthCare at 212.273.6272.
About YAI – Seeing Beyond Disability
YAI is a nonprofit organization that delivers more than 300 programs and services that create opportunities for people with intellectual and developmental disabilities (I/DD) to live, love, work, and learn in their communities.
For more information, visit www.yai.org/premier.