First Children Services and the Rowan Integrated Special Needs (RISN) Center are organizations that specialize in providing clinical services to individuals with intellectual and developmental disabilities in New Jersey. Many of the youth who these agencies serve are eligible for or already receiving services from the New Jersey Department of Children and Families (DCF) Children's System of Care (CSOC). First Children provides these services which include in-home evaluations and therapeutic services to youth through several CSOC system partners including the Camden County Partnership for Children (CCPFC) Care Management Organization (CMO). This article was inspired by the collaboration between First Children Services, the RISN Center, and CCPFC in coordinating Camden County's largest community resource fair in partnership with Camden County Freeholders and a host of similarly involved human services agencies.
Sometimes, it really does "take a village to raise a child," and in Camden County, the Children's Inter Agency Coordinating Council (CIACC) is creating a village for the youth in the community. The CIACC is a local advisory agent for CSOC comprised of local CSOC partners, stakeholders, educators, families, and private agencies. It serves as a mechanism to develop and maintain a responsive, accessible, and integrated system of care for children with social, emotional, and behavioral needs, substance use challenges, and/or intellectual and developmental disabilities. The CIACC has two subcommittees that are charged with bringing together resources for children in our community, the Developmental Disability (DD) Subcommittee and the Educational Partnership (EP) Subcommittee.
The DD Subcommittee is chaired by Jen Arey, patient navigator for the RISN Center. RISN provides South Jersey with its first special needs primary care facility that is focused on coordination of such integral services as preventative healthcare, reproductive health, and personal care. The DD Subcommittee is responsible for identifying and bringing together resources for local youth, especially those involved with the DCF's Division of Child Protection and Permanency (DCP&P). The subcommittee also looks to identify the needs and challenges of youth with intellectual and developmental disabilities and report back to the state on the county's needs. This mission aligns with Jen's role at RISN, where she assists families in applying for state services and connecting them to programs in their area, making her a natural fit as the subcommittee chair. One of the key areas the RISN Center is focused on is helping individuals with special needs transition to adult services. Thus, working with the county CIACCs is instrumental in making sure youth can successfully navigate this process.
The Educational Partnership (EP) Subcommittee is chaired by Sonia Cohen, marketing director of First Children Services. Sonia initially joined the Camden County CIACC to understand the framework of CSOC as a pre-requisite to providing quality services to the system partners with whom they hold contracts. Sonia felt strongly that it was important to give back to the community and found the CIACC to be a perfect forum to do that. Sonia's experience working with the many school districts that First Children serves gave her the know-how to serve as the EP Subcommittee chairperson. The EP is an alliance between local school districts, CSOC partners, and agencies who serve youth. The EP organizes cross-systems trainings and forums and help direct resources and services from DCF and other sources to families in need.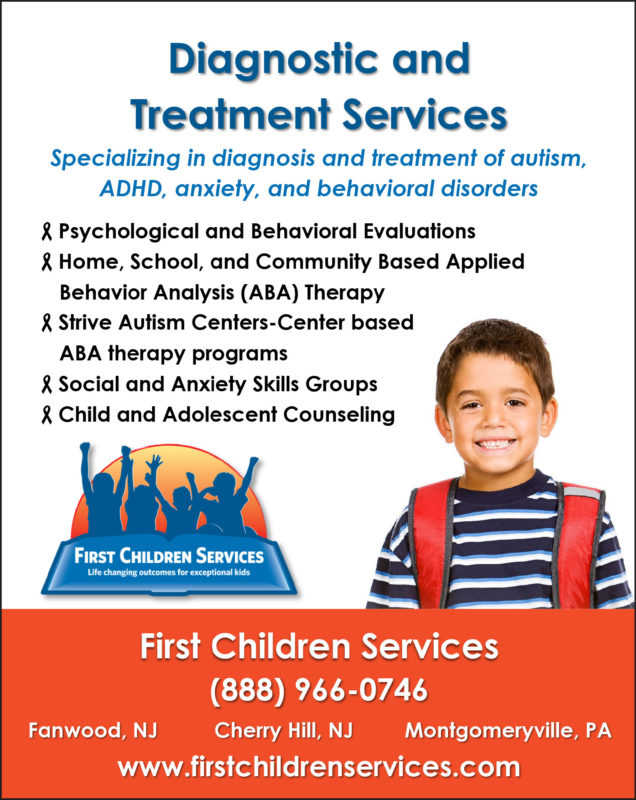 In Spring 2019, the Camden County DD and EP Subcommittees joined forces with the CCPFC, Camden County Freeholders, Community Planning & Advocacy Council, Jewish Federation of Southern New Jersey, and Camden County Educational Services Commission to plan the Camden County Resource Fair as a way to create community engagement on a large scale.
The Spring 2019 Camden County Resource Fair stemmed from a resource fair put together by April Young-DiPietro, CCPFC Community Resource Director, beginning in 2016 as a means for the CMO's care managers to familiarize themselves with the various resources in the community. The CMO primarily serves youth who have social, emotional, and behavioral challenges and/or intellectual and developmental disabilities, so many resources were specific to youth with those challenges. The resource fair quickly grew to include other local DCF partners such as the Family Support Organization, Mobile Response and Stabilization Services, and DCP&P. By Spring 2018, the resource fair outgrew the CCPFC offices and was moved to the Voorhees Town Center, a mall which donated its space for the event. With the expanded space and parking, CCPFC was able to open the event to the public for the first time. This expansion paved the way for the Spring 2019 resource fair.
The Spring 2019 Camden County Resource Fair boasted over 250 vendors, all agencies who provide valuable resources to children and families in our community. Families and professionals, including local school personnel, were invited to attend so that these resources could be shared directly with families and indirectly through the professionals who work with children. This year there was an emphasis on attracting providers of services for children with intellectual and developmental disabilities, and more than 60 of these providers attended. A new addition to the resource fair this Spring was a multi-agency presentation on state-funded resources for youth with intellectual and developmental disabilities. Presenters included Rebecca Harrington, Southern New Jersey Regional Early Intervention Collaborative manager of family support, Jeanne Borelli, Special Child Health Services Unit coordinator, Attiyya Milligan, CCPFC community resource assistant, Katherine Birmingham, Family Support Organization director, Celine Fortin, The Arc of NJ associate executive director, and Sonia Cohen. Professional development credits were offered to educators to encourage their attendance. Thirty educators and other professionals attended the presentations with many more attending the resource fair. The positive feedback from the attendees and vendors spread to neighboring counties who have since reached out to the event planners for advice on planning their own fair.
Say It With Clay, a non-profit dedicated to providing therapeutic clay experiences to people with diverse abilities, founder and CEO Abbie Kasoff says, "Community resource fairs like this are invaluable to families in need. The mix of professionals/vendors that attend this event has also allowed hundreds of us opportunities to build successful, long lasting relationships that help us to grow our village, to help each other, to help so many more families than we could ever do on our own."
Young-DiPietro says she is "deeply grateful for the joint efforts from system partners to help a vision come to life. The community resource fair started years ago as an intimate gathering for CMO staff and since has grown into a truly collaborative work of art. Being able to connect the community at large to valuable social service resources in numbers this grand has truly meant the world of difference. I'm honored to be among incredible people willing to put the work in to help more families."
The resource fair event was so successful, the organizers are repeating it this Fall, and they expect it to be bigger and better. The Fall 2019 Camden County Resource Fair will be held on October 17th with hope of attracting more families and professionals. The planners are hopeful that the resource fair will continue to thrive and be an example for other communities in how the community can join together to provide invaluable resources to the children and families in South Jersey.
Jennifer Arey, BS, is Patient Navigator at the Rowan Integrated Special Needs (RISN) Center. Sonia Cohen, MSc, is Marketing Director at First Children Services. April Young-DiPietro, LSW, is Community Resource Director at Camden County Partnership for Children (CCPFC). Howard Savin, PhD, is Chief Clinical Officer at First Children Services.
If you have any questions or comments, please contact Sonia Cohen, marketing director, First Children Services at scohen@firstchildrenservices.com or (856) 888-1097 ext. 304.