With Autism Awareness Month just beginning and Developmental Disabilities Awareness Month just ending, AHRC New York City is proud to recognize The Museum of Modern Art, just one of our wonderful community partners, which is raising the profiles and enriching the lives of artists throughout AHRC NYC.
The pandemic is bringing out the best in some artists with autism and other intellectual and developmental disabilities (I/DD). Talents are emerging where parents never imagined. The inspiration comes from AHRC New York City's partnership with The Museum of Modern Art (MoMA) Educators.
Carrie McGee, Assistant Director, Community and Access Programs with MoMA's Department of Education, and Theresa Rodewald, Assistant Educator, Community and Access Programs, remotely share pieces from the MoMA collection. They engage the artists, asking what they see and how it makes them feel. Each week they provide a MoMA Challenge, providing a new level of expression for many artists.
Cory Tyler, 41, of the Bronx, has excelled during several challenges. "I drew birds watching TV on the beach," he says. "If I can accomplish one challenge, I know I can accomplish other things."
Another challenge asked artists to create a work that reflects the way you feel. Tyler, who is soft spoken, drew a mountain with eyes in it. He titled it "Silence," reflecting the feeling of always being watched without finding solitude in this space.
Before working with MoMA, Pola-Ana Mora, AHRC NYC's ArTech Manager, said the group would only explore art on the surface. "They're asking how artists feel when working and how it can relate to practices in their own lives," she said.
MoMA Focuses on Adults with I/DD
Prior to COVID-19, McGee, who has been with MoMA for 18 years, has worked with many different groups, including people with disabilities. The museum strives to make the museum accessible to everyone. Once COVID-19 spread, the team could no longer work off-site with every partner. "One audience we identified as a priority was adults with I/DD," McGee said. "Adults with I/DD could use that social connection and engagement with the museum."
AHRC NYC's Jonathon Epstein, Transition Developer in Adult Day Services, is a Steering Committee Member of the Museum, Arts and Culture Access Consortium, which strives to increase people with disabilities' access to New York City's cultural institutions. Jonathon connected MoMA Educators which led to regular sessions with artists supported at ArTech.
The powerful impact of the partnership is apparent. "Making art and connecting with others over it can be really meaningful over time," McGee said, adding that engaging with art offers the artists an opportunity to express themselves intellectually and emotionally.
Some individuals who never have participated in art programs are creating beautiful work and sustaining it, Darinka Vlahek, Director of Arts and Community Outreach, said. "They may not express themselves verbally, but they are expressing themselves with art. That's part of the value of creating art in COVID."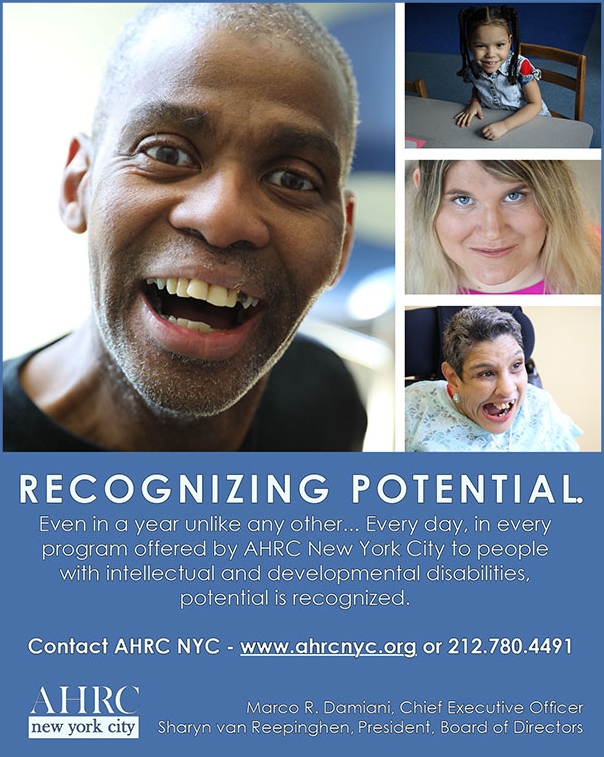 Artist Takes Matters Into Own Hands
You can hear empathy, as Tom Gambaro describes the pandemic.
"When I saw what was happening during this crisis, it felt really bad," Gambaro said. "Most of the patients in the hospital could be relatives of other people or even old friends. So that's when it hit me. I decided to take matters into my hands."
The Brooklyn artist, inspired by MoMA Educators and the AHRC New York City art staff, has molded 20 clay figurines of doctors and nurses. He works on his own, but the feedback, delivered through remote sessions, has provided an additional spark. He has sold 11 figures on his Instagram page: @thomastheamazingartist. He will donate a portion of the proceeds to a local hospital.
"I'm awfully glad they love it," he said with a smile. "I kind of feel amazed."
Virtual Art Sessions "A Blessing"
Millie Santiago's son, Elvin Flores, calls the virtual art sessions "a blessing." "For over 15 years, Elvin has been an artist who never wanted to draw or paint at home," she said. But that changed when AHRC NYC's programs went remote. "He is expressing himself every day through art – with or without the actual sessions. This is new."
"The difference that I have been able to see in his pre-pandemic world view artwork is that he seemed to be able to draw energy from those around him and somehow put that into his work. I believe that is why it was more difficult for him to draw at home. At home now, he takes what is in front of him – a smaller world view – and interprets it."
Making people happy with his art is important to Flores. "As a person, he is always looking to see how he can help others," Santiago said. "As an artist, I believe he wants to do the same thing."
Art Changes a Life
Art has changed Claudia Danies' daughter, Sydney. "She's not the same person," Danies said. "I think art has taught her that if you do something positive, you get the attention."
Sydney is calmer and more attentive, Danies said. She has no trouble sitting for a 90-minute Zoom session with MoMA or the AHRC NYC arts staff.
"Sydney has so much more confidence in herself," said AHRC NYC's Vlahek. "Asking her how she feels about something helps her think and puts her in a position to see she can do things."
The walls in Danies' Queens home are covered with art. She has many artist friends. Her daughter never expressed interest in going with her to a museum or creating her own art. But even that has changed. Since participating in AHRC NYC's art program, Sydney has joined her mother on two museum visits. She asks questions and expresses interest in different exhibits.
When Sydney showed her mother her interpretation of Van Gogh's Starry Night, drawn on notepaper, Danies was impressed, as was Sydney. She asked how she knew the drawing. "It's a very good interpretation," Claudia said. "Kudos to AHRC NYC for raising the bar," she added.
Lynn Uhlfelder Berman does Public/Media Relations for AHRC New York City.