In today's high-tech world, quality teaching in special education is an essential factor that many specialists need to fulfill. Special education teachers are well-trained and often receive the latest skills and resources to provide effective intervention for children with autism. However, high expectations and limited funds make it difficult for classrooms to provide the best enrichment that many children with special needs require. Being forced to use old, outdated equipment may compromise the goal of special education programs. Robotic technologies, however, allow educators to use the latest technological breakthroughs, helping students learn while also engaging them in exciting activities and social experiences that enrich their minds.
One way to utilize robots for special needs education is by personalizing techniques to fit each individual student's communication, social, and learning needs. As technology advances, it is only a matter of time before students can easily access the best and latest technological opportunities for improved education.
The Challenges Faced by Children with Autism Spectrum Disorder
Children diagnosed with Autism Spectrum Disorder (ASD) experience many difficulties in traditional school settings. These children need to learn how to interact with their peers, make friends, work with other children, and solve problems in a natural, uncontrolled environment that is accepting and enriching. This can be a difficult challenge for children with ASD. However, there is a useful tool that teachers can leverage. Using robotic technology, children with ASD will be able to practice these needed skills in a safe, non-judgmental, and fun way. By using robots for special needs education now, by the time the next generation arrives, many of the common challenges facing today's children with disabilities will be things of the past. The new paradigm of teaching will then involve robotic innovations that will profoundly affect education, technology, and society.
Educational Intervention of Robotic Assistive Technology
Robotics used to have a somewhat negative connotation when it came to the subject of autism by those who question the efficacy of robotics as assistive technology. The fear and stigma attached to robotics as being "non-human" are enough to discourage some parents from wanting their children to use robotic technology in any way. This stigma, however, is rapidly disappearing as more and more people discover the overwhelming benefits and opportunities robots provide. Since a child with ASD demonstrates various characteristics, ranging from finding difficulty communicating with others to lacking appropriate responses to particular social cues, such a child needs a safe, anxiety-free, and calming atmosphere in which he or she can practice and make mistakes without judgment or fear. Robots, however, are now being programmed to help handle these and similar challenges.
We all know that robots cannot replace teachers and learning specialists, and this is definitely true; however, the digital age has certainly paved the way for incredible advancements in all sorts of industries, including education. Robotics in education can be used to support, assist, and augment the teaching professional, thus allowing more opportunity for the professional to assess, observe, and analyze a child's performance. Education is such a high priority because, unlike many other fields, it is tough to predict what the requirements of tomorrow might be. This makes teaching special needs students especially challenging, so using various assistive tools and techniques is often a great idea.
Roboticists and software engineers are continually working on the development of Robot-Assisted Instruction for special needs education. These robots will help children with learning disabilities and teach the essential skills that many take for granted. What's more, with Robot-Assisted Instruction, parents can look forward to a bright, new future of interactive learning.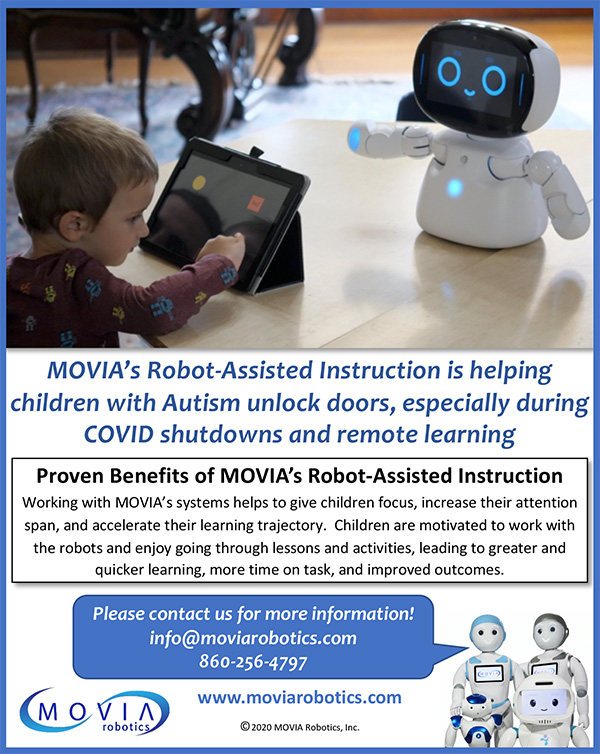 Interactive Robots for Autism
Interactive robots are the next generation of treatment options available to children with ASD. To assist in working with patients, therapists and teaching specialists are now using the latest robotics technology.
While they are constantly developing and improving, these robotic systems already provide a much more robust interaction than is sometimes achieved by only conventional instruction in special education. As negative behaviors are often a barrier to educational access, robots can be key to eliminating children's frustrations by allowing them to express themselves more fully. With an enhanced technological system, parents will have an alternative to traditional methods for teaching and training their children. This program could change a child's life, providing better preparation for primary education and fundamental life skills learning.
Roboticists aim to create robotic systems that can work alongside a patient in a therapist-based program to improve social skills and facilitate communication. Such an innovative approach will enable the robot to provide the same stimulation that individuals with autism receive in other environments. It will also help the child focus his or her attention on the interaction rather than on the lack of response, allowing the child to focus on the nature of the social situation.
This technology represents a significant leap forward in research and development. Robot-Assisted Instruction for children with ASD is indeed a remarkable development in educational intervention.
The Benefits of Robotics in Special Education
An education is about more than just being able to pass a test score, and the development of a child's mind and learning ability goes beyond just basic memorization. On the contrary, an education is about helping each student grow and develop in a healthy, nurturing environment. For any teacher who values the importance of encouraging creativity, inventiveness, and exploring new ideas, the benefits of robotics in special education will prove invaluable.
The benefits of robotics in special education are essential for parents, caregivers, and teachers who want to see their students learn, thrive, and have the best developmental experience possible. Using a wide range of technology, such as Robot-Assisted Instruction, to enhance the learning and socialization experience, educators can communicate the fun and imagination that all children need to learn.
There are countless benefits of robotics in special education. Teaching science and math to struggling students with autism is a challenge that can be made much more manageable with technology. By providing a stimulating, hands-on environment, teachers can help their students discover the wonders of technology and embrace the opportunities it offers them.
One of the most notable benefits that robotic assistive technology could ever contribute to society would be to engage children with autism or other learning disorders in meaningful interactions, helping them to overcome the challenges they face every day. In many cases, these challenges prevent children from learning the necessary skills they need to succeed in life.
If you have a child with autism who struggles to interact with you, Robot-Assisted Instruction can make a great deal of difference in your life. And, since many children with autism are in great need of extra support, especially in improving their communication abilities and helping them interact with others, this technology could benefit the larger community. Interactive robots for autism may prove to be the answer that we were all hoping for.
Do you want to unlock your child's full potential? MOVIA's Robot-assisted Instruction (RAI) helps children with special needs and abilities learn and grow using the best collaborative robotic technology. Contact us today by visiting www.moviarobotics.com if you would like to learn more about MOVIA's robotic assistive technology systems!