Sex education remains a contentious topic in the United States, especially within the public school system. As of October 2020, only 30 states and the District of Columbia require public schools to teach sex education, and only 22 states require that sex education be medically and factually accurate. Despite the development of national standards for sex education for kindergarten through 12th grade, access to comprehensive sex education across the nation is spotty.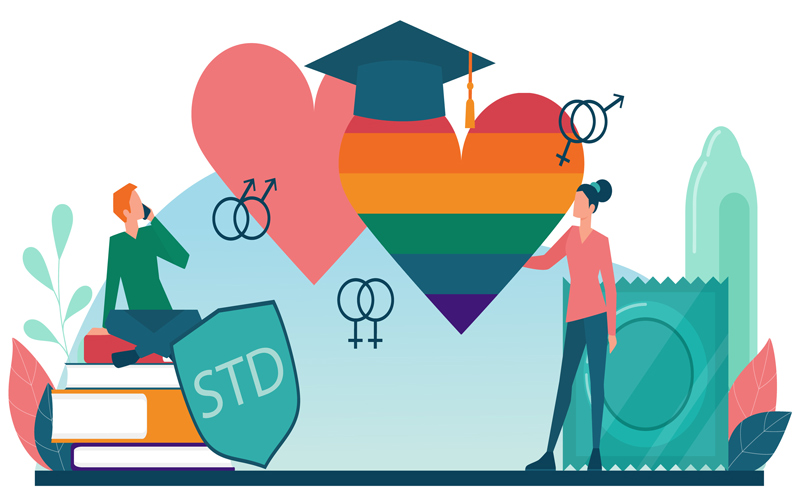 Those who stand to lose the most from this patchwork of education are students who receive special education services. Students with disabilities, including autistic students, are often excluded from their school's sex education programs. The reasons for this vary; sometimes it is because of special education teachers' discomfort with the topic, or because schools don't know how to adapt sex education curricula to meet the needs of students with autism. Regardless of the level of support needs an autistic student has, it is crucial to include them in these conversations.
Lacking access to this information is especially dangerous for autistic individuals, given the incredibly high rates of sexual abuse within the autism community. Encouraging an understanding of one's own body, bodily autonomy, and appropriate social relationships is an essential way to help prevent abuse. Unfortunately, stigma around sex education creates barriers to accessing this information.
For many, the terms "sex education" or "sexuality" are thought to be topics that only encompass intercourse or other sexual behavior. In reality, sexuality is an incredibly broad topic that encompasses the entire lifespan. It also does not solely include reproductive health; effective sexual health education involves a wide range of knowledge building and skills training.
So, what topics should be included in a comprehensive sex education program? One useful framework for developing or choosing a sex education curricula are the Circles of Sexuality. This framework, based on the work of Dr. Dennis M. Dailey, identifies six topic areas to include within sex education curriculum. The Circles of Sexuality are a core component of existing sexual health programs for youth, and apply to neurotypical students and students with autism.
The Circles of Sexuality
Let's look at each of the Circles of Sexuality in-depth:
Sexual Health and Reproduction – This category includes attitudes and behaviors related to producing children, the care and maintenance of the sex and reproductive organs, and the health consequences of sexual behavior (such as sexually transmitted infections). It includes the "factual" information we typically think of when it comes to sexual health, including puberty, menstruation, intercourse, pregnancy, and birth control. Often, our sex education programs start and end here, but there's much more that should be included to be truly comprehensive.
Sexual Identity – This category includes the development of a sense of who one is sexually, including gender identity, gender expression, and sexual orientation. This is an especially pertinent topic for students with autism, as research shows that many autistic individuals identify as "not heterosexual" and often identify as trans or nonbinary. While some may balk at the idea of including discussions of gender identity or sexual orientation in schools, the benefits of providing queer-affirming sex education have proven to be crucial for the wellbeing of students.
Intimacy – Intimacy includes the ability and need to experience emotional closeness to another human being and have it returned. Caring for others, liking or loving others, emotional risk-taking, and vulnerability are elements of intimacy. It also includes topics like social skills and communication – common themes for autistic individuals in other educational settings. The topic of intimacy is especially important for students with autism. There is a common misconception that autistic individuals are emotionless, or cannot feel love and intimacy in the same manner as neurotypical individuals. The reality is that people with autism need intimacy and connection just as much as anyone else, but sensory differences experienced by autistic individuals means that their expression of love may not mirror what our society views as "typical." This myth of emotionlessness can result in exclusion from these discussions, leaving them more vulnerable to abuse.
Sensuality – This topic includes an awareness, acceptance, and comfort with one's own body and the bodies of others. Sensuality covers a range of concepts, including body image, skin hunger (the need for physical touch), masturbation, and pleasure. This is often an area where the taboo of sexual pleasure can prevent educators from including these discussions in sex education programs. Namely, many educators and caregivers worry that providing information on sensuality or pleasure will encourage students with autism to "just do it," or initiate sexual activity. The research on this tends to point toward the opposite, where students who received comprehensive sexual health education were more likely to delay the onset of sexual activity. Pleasure-based sex education programs help to normalize the idea of sexuality as a positive experience, rather than something to be feared. It also emphasizes the importance of giving and receiving consent, not just in sexual relationships, but any relationship.
Sexualization – Sexualization refers to the use of sexuality to influence, control, or manipulate others. It involves a range of behaviors from flirting and seduction to rape and sexual harassment. For individuals with autism, it's especially important to include these discussions in a sexual health education program as difficulty reading social cues or understanding boundaries can create scenarios where they could both be at risk of victimization or at risk of victimizing others. It is also beneficial to frame sexualization around the concepts of power and control. Recognizing when there could be a power imbalance within relationships (such as between a boss and an employee) can help autistic individuals more easily identify potentially unsafe or abusive situations.
Values – The final, and perhaps most important circle, are values. Values are central to our sexuality because they serve as a guidepost for how we conduct ourselves within sexual relationships. Values are also heavily influenced by family and cultural, spiritual, legal, and political systems. Helping autistic students determine their own values helps bolster their self-efficacy when it comes to choosing (or not choosing) sexual relationships. It also allows the individual the opportunity to be able to understand and name their values so that when they find themselves in a situation where their values may be compromised, they feel better prepared to address it. It is imperative that sex education programs do not attempt to force or influence one particular value system onto the individual, but rather help the individual determine what their own values are and how to communicate these values to others.
The Circles of Sexuality framework is excellent at describing a comprehensive sex education program, but it can also appear overwhelming at first glance – especially when many of us have never received such a robust sex education. It can be difficult to find curricula that not only include these topics but are also adapted to meet the needs of students with autism.
It is also a topic that one educator or program cannot tackle alone. Do not be afraid to seek out those who recognize the importance of true comprehensive sexual health education and lean on the expertise of those who can adapt or create curriculum to meet the unique needs of autistic individuals.
Nellie Galindo, MSW, MSPH, is Founder & CEO of Accessible Sexual Health LLC.
References
Cazalis, F., Reyes, E., Leduc, S., & Gourion, D. (2022). Evidence that nine autistic women out of ten have been victims of sexual violence. Frontiers in behavioral neuroscience, 136. Retrieved August 31, 2022 from https://www.frontiersin.org/articles/10.3389/fnbeh.2022.852203/full
Chin, H. B., Sipe, T. A., Elder, R., Mercer, S. L., Chattopadhyay, S. K., Jacob, V., … & Santelli, J. (2012). The effectiveness of group-based comprehensive risk-reduction and abstinence education interventions to prevent or reduce the risk of adolescent pregnancy, human immunodeficiency virus, and sexually transmitted infections: two systematic reviews for the Guide to Community Preventive Services. American journal of preventive medicine, 42(3), 272-294.
Dailey, D. (1981). Sexual expression and aging. In F. Berghorn & D. Schafer (Eds.) The dynamics of aging. (pp. 311-333). Boulder, CO. Westview Press.
Dattaro, L. (2020). Largest study to date confirms overlap between autism and gender diversity. Spectrum News. Retrieved August 31, 2022 from https://www.spectrumnews.org/news/largest-study-to-date-confirms-overlap-between-autism-and-gender-diversity/
Doyle, K.E. (2012). Sexuality Education for Students with IDD: Factors Impacting Special Education Teacher Confidence. [Unpublished doctoral dissertation].Mount Holyoke College. Retrieved August 31, 2022 from https://www.proquest.com/openview/1f49e43438bf460c7a31bb0c5aa6efe1/1?pq-origsite=gscholar&cbl=18750&diss=y
Future of Sex Education Initiative. (2020). National Sex Education Standards: Core Content and Skills, K-12 (Second Edition). Retrieved August 31, 2022 from https://advocatesforyouth.org/wp-content/uploads/2020/03/NSES-2020-web.pdf
Graham Holmes, L.; SEICUS. (2021). Comprehensive Sex Education for Youth with Disabilities: A Call to Action. Retrieved August 31, 2022 from https://siecus.org/wp-content/uploads/2021/03/SIECUS-2021-Youth-with-Disabilities-CTA-1.pdf
Johnson, K. (2022). Myth: People with autism don't feel love. Autism Therapies. Retrieved August 31, 2022 from https://autismtherapies.com/2022/02/17/myth-people-with-autism-dont-feel-love/
National Conference of State Legislatures. (2020). State Policies on Sex Education in Schools. Retrieved August 31, 2022 from https://apastyle.apa.org/style-grammar-guidelines/references/
National Domestic Violence Hotline. (n.d.) Power and Control. Retrieved August 31, 2022 from https://www.thehotline.org/identify-abuse/power-and-control/
Planned Parenthood of the St. Louis Region and Southwest Missouri. (2018). That 8-letter word: Including pleasure in sex education. Retrieved August 31, 2022 from https://www.plannedparenthood.org/planned-parenthood-st-louis-region-southwest-missouri/blog/that-8-letter-word-including-pleasure-in-sex-education#:~:text=What%20is%20'sex%2Dpositive',safe%20and%20fun%20sex%20life.
Quiroz, L., & Nguyen, A. (Hosts). (2022, August 30). Sex education often leaves out queer people. Here's what to know. [Audio podcast episode]. In Life Kit. National Public Radio. https://www.npr.org/2021/04/22/989826953/sex-ed-often-leaves-out-queer-people-heres-what-to-know
Wenner Moyer, M. (2019). When autistic people commit sexual crimes. Spectrum News. Retrieved August 31, 2022 from https://www.spectrumnews.org/features/deep-dive/when-autistic-people-commit-sexual-crimes/
Wilson, P. (2014). Our Whole Lives: Sexuality Education for Grades 7-9 (Junior High School). Denver, CO. United Church Board for Homeland Ministries.