Is it possible to live independently with a disability? This question is often a source of concern for those with a disability like autism. However, it is important to remember that independence can look different for everyone, and technology can play a valuable role in fostering independence. At Vista Life Innovations, a nonprofit based along the Connecticut shoreline that supports adults with disabilities, students and members regularly utilize technology to support their daily life. In this article, we will share stories from Vista about how technology cultivates and enhances independence.
Cooking can foster healthy eating habits, be a joyful hobby, and create meals that bring people together. It is a practice that often incorporates the use of technology such as a refrigerator, a stove or microwave, or dishwasher. Still, not everyone feels comfortable using devices like a stove or even traditional cooking tools. At Vista, students and members receive personalized training in these skills from experienced staff members. Additionally, many members elect to purchase assistive devices to help in their kitchens. There is a huge variety of kitchen gadgets available which are designed to make cooking accessible to all. From no-slip cutting boards to comfort grip cutlery, there is something for everyone. Quintin, a Vista member with autism who lives in his own condominium, absolutely loves using his air fryer. Utilizing devices like his air fryer and onion chopper, Quintin works with his Life Skills Instructor to learn healthy recipes. Additionally, Quintin's Life Skills Instructor supports him in increasing his comfort level with the stove, which he can use but often feels nervous about handling independently. Pat, another Vista member with autism, is at ease cooking with a stove after training with his Life Skills Instructor while sharing in Quintin's excitement for specialty cooking devices. Pat says, "I am able to use the stove independently now and like using the George Foreman Grill too because you can make even more recipes that way. I like to cook a lot of things in the kitchen like western omelets, pot roast, meatloaf, and flank steak." For those who are prone to distraction while cooking, a CookStop kit is also a potential safety option. This device automatically turns off a stove if motion is not detected in front of it within a certain amount of time. Some Vista members actively utilize a CookStop to safely prepare their favorite dishes. Whether it be to maintain kitchen safety or to make meal prep more fun, technology in the kitchen can be a valuable resource.
For many with disabilities, taking medications at the right time of day and in the correct dosage can be critical for a healthy life. Yet, this does not mean that individuals must always remain dependent on others for their medication. At Vista, students and members are trained in medication management to better understand and support their health. Evan, a Vista member with autism, was determined to gain greater medication independence when he joined Vista. By training with Vista staff, Evan learned the details of his medication needs, including what he takes, the dosage, and why it is important for him to take his medications as prescribed. "Developing my medication independence was a big accomplishment for me," Evan explains. "I've been able to become more independent with my medications and use a MedMinder to help me. It stores my medications and reminds me when it's time to take them." A MedMinder, as Evan said, is an electronic medication storage device. Each dose of medication is kept in its day and time slot. At the designated time, the MedMinder will light up the appropriate slot and a prerecorded message will say, "Evan, please take your medication." The light and message will continue until the medication is removed. To ensure medication is taken during the necessary timetable, the device triggers a phone call to a predetermined specified phone number if medication is not taken. Because of his commitment to medication independence, and with the assistance of his MedMinder, Evan can live in the home of his choosing without a need for in-person medication assistance.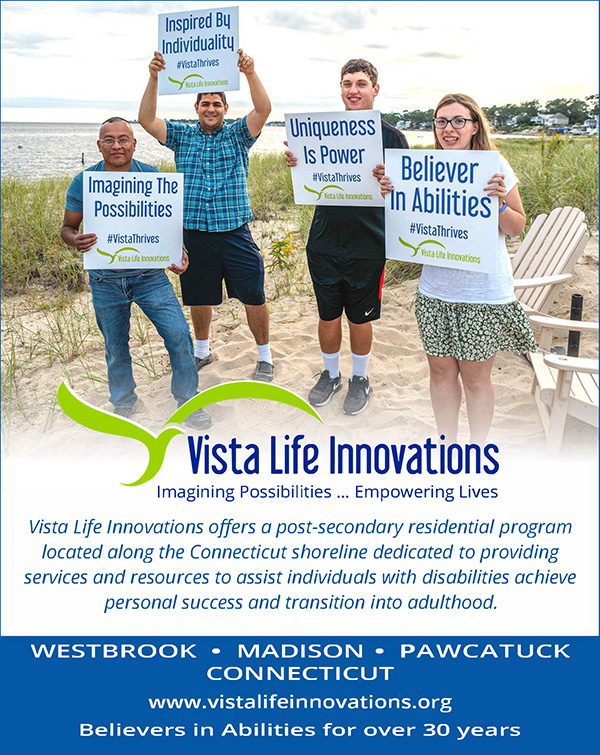 Having a bank account and managing one's own money can be deeply empowering; however, requires learning strategies to handle a budget and make sound financial decisions. Students in Vista's residential transition program, Discover, work with their Program Counselor to set up a local bank account and learn how to handle their money. Wendy, a new student with autism in Discover, is learning to manage her budget and uses her mobile banking app to help her keep track of her spending. Before planning a recreational activity like going to the movies, for example, Wendy can quickly look at her account balance and determine if that activity fits into the budget, or if she needs to save up before the outing. Miles, another Vista student with autism, explains, "My banking app allows me to check my balance and use mobile deposit. It helps me feel secure, especially when I see my balance isn't negative." Like Miles, many employed Vista students and members use their banking apps to deposit paychecks or other funds into their accounts.
For individuals with disabilities, there can be barriers to interacting with others or entering the greater community that are not always obvious. For instance, Jessie, a woman with autism at Vista, is sensitive to sensory information. Even seemingly quiet sounds can feel highly intrusive. To navigate interacting with a world that is so often full of noise, Jessie frequently carries noise-canceling headphones. By minimizing the noise around her, Jessie can interact with others and the greater community with more ease. At Vista, some individuals utilize headphones to either tune out external sounds or listen to music, which can also be a valuable coping strategy. Vista's staff support students and members in learning how to use noise-canceling headphones safely when out in the community, as it is important to still hear some sounds while navigating your surroundings.
Vista students and members are often eager to utilize public transportation to get around their community, whether it be to visit a new restaurant with friends, go to the gym, or commute to work. Even so, with ever-changing schedules and routes to learn, public transportation can be a challenge. Vista's students undergo extensive public transportation training in collaboration with a community partner of Vista who has the state contract to teach "travel training." In addition to this training, many at Vista benefit from using a "bus fare app" like Token Transit to help manage bus fare for the local bus system (called 9 Town Transit). Students and members can purchase bus tickets individually or in bulk through the app, rather than needing to bring exact change or a paper bus pass. When using an app, students and members simply scan their cell phones when boarding, find a seat, and enjoy the ride.
Living with a disability like autism does not mean that it is impossible to be independent. Through education and the strategic utilization of technology, individuals can create and learn systems of independence that work for them. As technology continues to advance, it will likely create even more ways to foster growth and Vista will remain vigilant in seeking new ways to teach, train and empower independence in our students and members. The future is bright for those willing to imagine the possibilities!
Please note: The names of the Vista students and members in this article have been changed for privacy reasons.
Becky Lipnick is the Communications Lead at Vista Life Innovations. For over 30 years, Vista has supported individuals with disabilities achieve personal success. Learn more at www.VistaLifeInnovations.org or contact Becky at BLipnick@VistaLifeInnovations.org.