At Devereux Advanced Behavioral Health, we are always looking for ways to better support our talented and hard-working team members. Devereux National Director of Family Engagement Amy Kelly, MBA, MNM, leads a family support group for Devereux employees and their significant others who are parents, caregivers or siblings of a child or adult with autism spectrum disorder and/or intellectual and developmental disabilities. The support group offers a safe space for staff to discuss issues and explore solutions; offer strategies and resources; and manage stress and feelings of isolation.
Recently, Kelly, whose 20-year-old daughter, Annie, has autism and intellectual and developmental disabilities, shared how members of the support group, and their families, celebrated the end of summer and the beginning of the new school year.
"Summer always seems to go by so fast – days of heat and humidity, fun in the sun, staycations or, maybe, vacations to someplace new. Then, one morning you wake up with dew on the grass, a chill in the air and leaves on the ground. Hello, fall.
Before the start of the new school year, members of Devereux's internal support group decided to get together in person (after meeting virtually once a month for more than a year) with our families to say, 'so long to summer.'
A colleague generously hosted the group in her 'autism-friendly' house, meaning it was a safe space for our children to play and there were sensory activities built in. There was a relatively small group of us: two dads, four moms and five neurodiverse children, ranging in age from 5 to 20. Four out of five kids use speech-generating devices, and a few carried their favorite stuffed animal, or 'lovey,' for comfort.
One might think a 15-year age gap could dissuade our kids from 'playing together.' Nope, not one bit.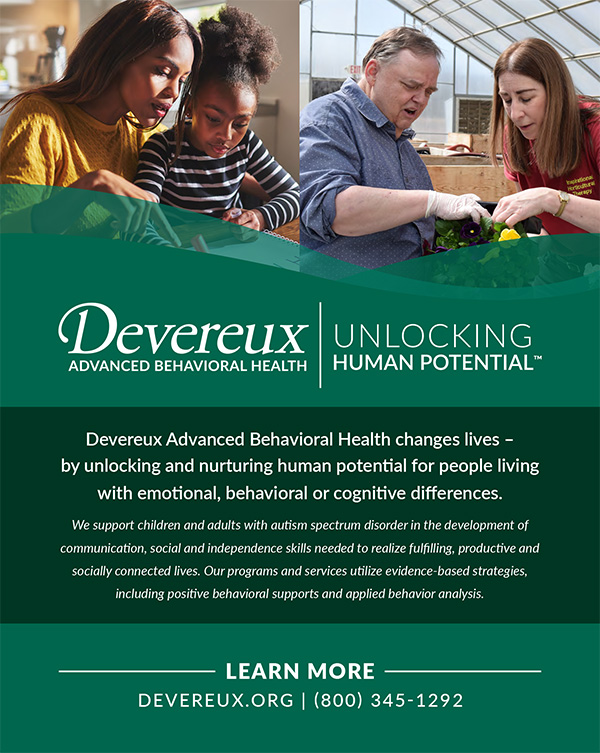 It was remarkable to see how the children (and us parents) easily assimilated to each other and the new environment. Sure, some kids flew around the space like tornadoes until they got their bearings, checking out every little thing in the house, while others hung back and stayed on their iPad or speech-generating device until they were ready to interact. After the first half-hour, this was a group of people who you never would have known had just met for the first time. The children had an innate acceptance of each other, not seeing differences, but rather similarities. After all, who doesn't like pizza, water games, tie-dye and pinatas filled with candy?! For us parents, it was wonderful to have a welcoming place to go with our 'unique' children, and not feel judged if they did something unusual.
The comfort of a family support group is priceless. There is knowledge shared. It doesn't matter if you are just starting your journey or have been on this road for a while, you can always learn something new. There is mutual compassion, and someone who understands what it means when you say you are having a 'bad day.' Also, there is a sense of trust and hope. We are each other's cheerleaders.
With their permission to use their names, I would like to give a special shoutout to Devereux internal family support group members Kristin Schloendorn, Anita Smith, and Rachel Cervin Kubel for sharing their families and a very special day with me and my daughter, Annie. As summer comes to a close, we wish you and your family a successful school year ahead!"
Amy Kelly, MBA, MNM, is the mother to Danny, Annie and Ryan. Annie is diagnosed with moderate to severe autism, verbal apraxia, intellectual and developmental disabilities and general anxiety disorder. Amy is the National Director of Family Engagement for Devereux Advanced Behavioral Health, one of the nation's oldest and largest nonprofit providers of behavioral healthcare, and serves as a family representative on several special needs boards in the community, locally and nationally. In addition, she participates with other patients and families in efforts supported by the Autism Care Network and serves on an executive committee for the American Academy of Pediatrics to assist children and adolescents with special needs and the importance of quality care.