Your son/daughter has just been medically diagnosed with an autism spectrum disorder (ASD) by their primary care physician or by a psychologist. It has been recommended that you pursue Applied Behavior Analysis (ABA) therapy. ABA is endorsed by the American Academy of Pediatrics as an evidence-based practice. The challenge then becomes locating a provider and funding for the program. A list of providers can be found on our website at https://www.iidc.indiana.edu/pages/where-and-how-to-find-an-aba-provider-or-center. ABA programs should guide you on identifying and accessing funding sources. This article is written so that you can better understand your options. Do not be overwhelmed.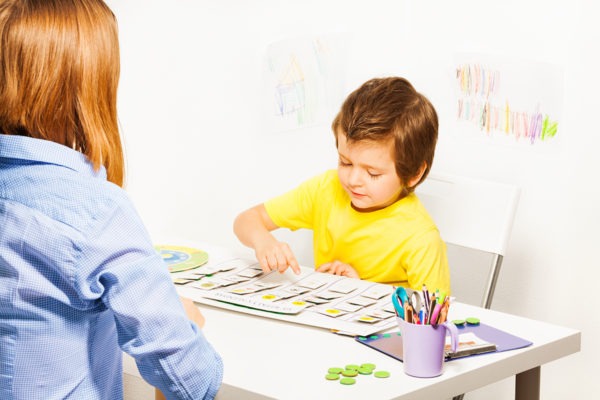 Insurance Coverage
Indiana is fortunate to have a strong autism insurance mandate. Understanding if and how you are covered under your insurance plan should be the first step. Your child is eligible to be covered via insurance, because ABA is considered a medically necessary part of your child's treatment program. There are a variety of medical coverage programs available to families. These may include employer-based health coverage, private purchase of health insurance, and state and federally subsidized programs.
If you have private employer-based insurance, check to see if ABA is covered. You can determine if your plan is covered by Indiana's or another state's autism insurance mandate by checking with your company's Human Resources Department. Ask if your plan is fully funded and if it was issued in Indiana or another state. If your insurance was issued in another state, check with that states Department of Insurance and ask if that state has an insurance mandate or parity law for autism. Your insurance covers autism treatments if it is fully funded and is issued in Indiana or another state that has an autism insurance mandate.
If your employer-based insurance is self-funded (also referred to as self-insured), the policy is regulated under federal law and exempt from any state regulation. Your employer based self-funded plan may still voluntarily cover autism, so you should ask if they do. Self-funded companies that are required to comply with the federal Mental Health Parity and Addiction Equity Act (MHPAEA) must cover ABA and autism treatment. Coverage cannot be limited unless the same limits apply to substantially ALL medical surgical conditions in the same category of service (inpatient, outpatient). Some self-insured plans are exempt from MHPAEA and would not have to cover autism or ABA. Any self-insured plan that does NOT offer ANY mental health services does not have to cover autism or ABA.
If you have an Affordable Care Act Plan (ACA) purchased from the federally facilitated Indiana ACA marketplace, ABA is included in the "Essential Health Benefits" package and required to be covered in Marketplace plans because they must follow the Indiana Autism Mandate: https://www.healthcare.gov/get-coverage/.
Beginning in 2017, ALL federal employee health care plans must cover medically necessary autism treatment. This includes ABA therapy and other therapies (e.g., speech therapy, physical therapy) generally accepted by the medical community and written into the treatment plan by the child's treating physician.
Medicaid
All Medicaid Health Plans cover medically necessary ABA. Medicaid Health Plans must be full coverage plans and include: Medicaid Disability, also referred to as Traditional Medicaid; Hoosier Care Connect; Hoosier Health Wise; and MED Works. Medicaid carriers include Anthem, MHS and MDWise. These are insurance companies that are contracted by the State of Indiana to manage some Medicaid Health Plans. You do not have to "switch Medicaid types" to access ABA coverage. You do have a choice of Medicaid carriers.
Not all ABA providers accept Medicaid insurance. They may choose to participate in all Medicaid plans, some plans, or none. It will be important to ask the ABA provider about what Medicaid options they accept. An ABA provider must be a participating provider with Medicaid, AND be a participating provider who is credentialed by the insurance carrier who may be managing the Medicaid plan. For example, if you have Medicaid managed by MHS and your ABA provider is a participating provider in Medicaid, but NOT with MHS, they cannot be paid by MHS Medicaid managed plans. They must be "credentialed" by MHS and be in the MHS network.
Effective August 1, 2018, if individuals under age 21 are deemed appropriate for Applied Behavior Analysis (ABA) therapy, providers should access funding under Early and Periodic Screening, Diagnostic and Treatment (EPSDT). Visit the website at (https://www.iidc.indiana.edu/pages/medicaid-epsdt; https://www.medicaid.gov/medicaid/benefits/epsdt/index.html) for more information on EPSDT.
To learn more about Indiana Medicaid options, visit: https://www.in.gov/medicaid/index.html. If you are unsure which type of Medicaid you have, call the Division of Family Resources at 1-800-403-0864.
If your family receives military health care benefits (US armed services "TRICARE"), the TRICARE Comprehensive Autism Care Demonstration (Autism Care Demo) covers applied behavior analysis (ABA) services for all eligible TRICARE beneficiaries diagnosed with an autism spectrum disorder.
Family Voices Indiana provides a helpful Fact Sheet regarding purchasing insurance for all children with special needs. This information can be found at http://www.fvindiana.org/wp-content/uploads/2018/01/FS_Guide-to-Purchasing-Insurance-1.pdf.
Note: Know your insurance policy and follow the appropriate procedures. Submit your child's Care Plan that your ABA provider and you have developed to the appropriate person or department within your insurance carrier. Keep organized and thorough records of all dealings with your insurance carrier, especially paperwork sent and received.
Other Options
You may have insurance but find that additional coverage and services are needed for your child. Eligibility for the three programs and services listed below varies and may be dependent upon family income, and/or the diagnosis, age, and level of care needs of your child. Supplemental funding for services may be available from one or any of these programs. Families are encouraged to apply for the following programs:
In Indiana, there are two Medicaid waivers designated for people with developmental disabilities. These are the Family Supports Waiver (FSW) and the Community Integration and Habilitation Waiver (CIH). ABA is not a specific service of either the FSW or the CIH waiver. However, the waivers can be a funding source for non-medically necessary behavioral supports. ABA is not an available service for individuals 21 and older through the FSW and CIH Medicaid Waivers. They can have access to other behavior support services. Realize there is a waiting list for the Waiver, so do not expect it will happen right away.
The Children's Special Health Care Services (CSHCS) Program helps families of children ages 0-21 with serious chronic medical conditions get treatment related to their child's medical condition. Autism is a CSHCS eligible medical condition. CSHCS is the payer of last resort. This means that the program may pay only after your private health insurance and Medicaid have been billed. CSHCS is not an insurance program, but can provide supplemental funding. This program is federally and state funded, and features care coordination services that help children and their families get medical care that can include ABA. If eligible for ABA coverage through the CSHCS program, coverage is limited to $10,000 per child, per calendar year and the ABA provider must be enrolled with CSHCS.
United Healthcare Children's Foundation (UHCCF) purpose is to help fill the gap between what medical services and equipment a child needs and what their health insurance benefit plan will pay. UHCCF grants provide financial assistance for families with children, ages 16 and younger that have medical needs not covered or not fully covered by their health insurance plan. Award amounts are up to $5,000 or 85% of the fund balance, whichever amount is less, within a 12-month period. The grant is paid directly to the health care provider. For more information and to apply, see the UHCCF website https://www.uhccf.org/.
In addition, you may want to check out a limited number of grants that are listed on the Indiana Resource Center for Autism website. The article, Grant Funding Opportunities: For Families and Professionals is found here: https://www.iidc.indiana.edu/pages/grant-funding-opportunities. Look under the section for parents and families. Your local library may also be able to assist you in finding grants to apply for to cover some therapy costs.
If either your ABA provider or funding source provides information that seems confusing or contradictory, contact:
Indiana Arc- Insurance Advocacy Resources Center: https://www.arcind.org/our-programs/insurance-advocacy-resource-center/. Michele Trivedi is an INARC Manager and health advocate with many years' experience. You can contact Michele at 317-977-2375 or toll free 800-382-9100. Her email is mtrivedi@arcind.org.
Family Voices Indiana- Indiana's Family to Family Health Information Center: http://www.fvindiana.org/.
Call their toll-free number, 844-323-4636 and ask to speak to a specialist in your area. You can also email them at info@fvindiana.org. Spanish speaking specialists are also available.
 Marci Wheeler, MSW, is Social Work Specialist and Dr. Cathy Pratt, BCBA-D, is Center Director at the Indiana Resource Center for Autism at the Indiana Institute on Disability and Community at Indiana University, Indiana's Center for Excellence on Disabilities. For more information, visit https://www.iidc.indiana.edu/pages/irca.
This article is reprinted with permission. You may view the original article, published on January 15th, 2019, at https://www.iidc.indiana.edu/pages/how-do-i-fund-my-childs-applied-behavior-analysis
References
Wheeler, M. & Pratt, C. (2019). How do I fund my child's applied behavior analysis (ABA)? Retrieved from https://www.iidc.indiana.edu/pages/how-do-i-fund-my-childs-applied-behavior-analysis.