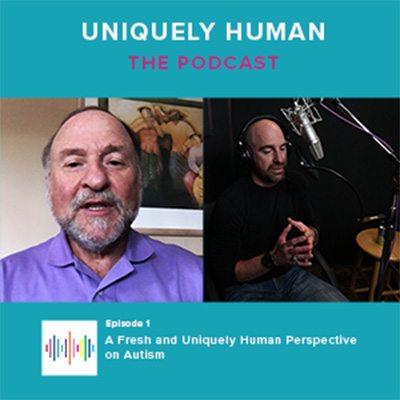 Episode 1 – A Fresh and Uniquely Human Perspective on Autism with Dr. Barry Prizant and Dave Finch
Listen to the Podcast!
Overview
Join Barry and Dave for the debut of Uniquely Human: The Podcast, as they deeply explore the broader meaning of the phrase, "uniquely human."
In this hour-long special episode, you'll hear Barry describe how a lifetime of work has informed the necessary evolution of humankind's relationship with autism and neurodiversity.
Enjoy this special conversation as we set the stage for regular episodic content focusing on the most important topics in autism.
Continue the Discussion
1) Barry coined the term "Uniquely Human" to de-pathologize and reframe the way we understand autistic individuals and the autistic experience. In your opinion, does "Uniquely Human" help to achieve these goals of seeing autism in a different way? If so, why, and if not, why not?
2) Barry and Dave see the Uniquely Human Podcast as a neurotypical/autistic co-equal partnership, as they each bring unique experiences and skills to the podcast. How is this approach emblematic of what we are learning from the neurodiversity movement? What are the potential benefits of such a partnership for listeners?
3) Barry and Dave discuss the concept that autism is best understood as a "shared human experience". How does this perspective contrast with more traditional views of autism, and how can this change your attitude and actions?
About the Uniquely Human Podcast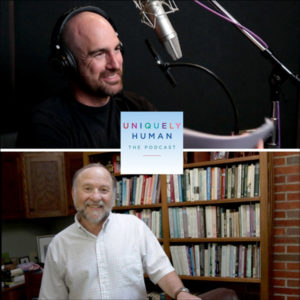 Hosted by autism scholar and author of Uniquely Human, Dr. Barry Prizant, and autistic humorist and author Dave Finch (The Journal of Best Practices), Uniquely Human: The Podcast expands the conversation on autism and neurodiversity by amplifying the voices of autistic individuals and thought leaders in providing insightful, cutting-edge and practical information about the autistic experience.
@uniquelyhumanpodcast (Instagram)
@uniquelypodcast (Twitter)