Episode 8 – Autism and Personal Fulfillment with Dr. Temple Grandin
Listen to the Podcast!
Overview
Striving and Driving for Success
Dr. Temple Grandin joins us to share her perspective on setting oneself up for success in a lifelong journey of personal growth. David LaFrenz shares the impact his work has made on him, and he receives this episode's Enthusiasm of the Week! Award.
Continue the Discussion
Do you have a book or podcast club? If so, you may use this discussion guide to facilitate a conversation about this episode.
1) During the interview, Temple raised a number of issues about autistic identity. She stated "Too many kids become their label". What does she mean by this, and how does her opinion contrast with other opinions about autistic identity you have heard, especially those expressed by people on the spectrum. Does Temple's opinion align with yours?
2) Temple also discussed her feelings about disclosing an autism diagnosis to others, and shared some anecdotes from her life. What are your beliefs about the people and situations in which diagnosis should, or should not be shared? What are your personal experiences as a person on the spectrum, or a family member of an autistic person?
3) Dave's LaFrenz's discussion of his "enthusiasm" about being a driving licenser and teacher revealed how his expertise in this area has not only benefited him, but others on the spectrum as well. What was most striking to you about what he said? What is most important about Dave's experience that you can relate to as an autistic person, or as a parent?
About the Speakers
Dr. Temple Grandin is well known to many for her trailblazing work as a spokesperson for people with autism and her lifelong work with animal behavior. Dr. Grandin has been with Colorado State University (CSU) for over 25 years. Grandin has been referred to as the "most famous person working at CSU" by her peers.
Her life's work has been to understand her own autistic mind, and to share that knowledge with the world, aiding in the treatment of individuals with the condition. Her understanding of the human mind has aided her in her work with animal behavior, and she is one of the most respected experts in both autism and animal behavior in the world.
"When I was in high school and college, I was a big Star Trek fan.
I am an extreme visual thinker and this has helped me with my work with animals, because animals do not think in words. There are other people with autism that may be mathematical or word thinkers. Emphasis should be placed on the skills that the person is good at."
My name is David LaFrenz, and I am a middle-aged autistic who was born and raised in the Midwest but now lives in Southern California. I hold a degree in English from Baker University and began my professional career as a teacher. Currently, I work as a Licensing-Registration Examiner with the State of California Department of Motor Vehicles, a position I have held for over 10 years, and serve as a member of its Disability Advisory Committee. I also participate in many autism acceptance organizations.
"I lived most of my life not knowing I was autistic feeling different and awkward. I never truly felt like I knew my place in the world. Now that I know that I am neurodiverse, I better comprehend and accept my uniqueness and how it influences the person I was, I am, and the person I will become. I credit my autism as a blessing for it allows me to better empathize with my autistic child's relationship with the world, my relationship with my autistic spouse, and my relationship with myself. From the path I have traveled thus far in my autism journey, I have come to love my family, friends, and autistic tribe more than ever as each has afforded me the privilege of living life authentically and allowing me the honor of walking alongside them.
Many of my enthusiasms include not only helping the autistic population thrive and gain acceptance in an ever-changing environment, but also following college basketball (particularly my favorite team the Kansas Jayhawks); enjoying the mystique and grandeur of lighthouses; bowling; engaging in mindfulness and relaxation techniques; and performing minor car repairs. I love doing word searches; solving word puzzles; and playing trivia where I have an uncanny ability of remembering the actors and character names of said actors in various television and movie productions."
Show Notes
For more of Temple's work:
Books:
Temple Grandin's Guide to Working with Farm Animals
Follow David LaFrenz:
@drivingwhileautistic (Instagram)
About the Uniquely Human Podcast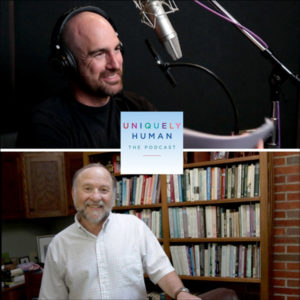 Hosted by autism scholar and author of Uniquely Human, Dr. Barry Prizant, and autistic humorist and author Dave Finch (The Journal of Best Practices), Uniquely Human: The Podcast expands the conversation on autism and neurodiversity by amplifying the voices of autistic individuals and thought leaders in providing insightful, cutting-edge and practical information about the autistic experience.
@uniquelyhumanpodcast (Instagram)
@uniquelypodcast (Twitter)