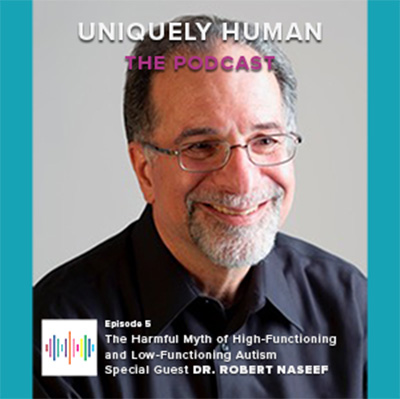 Episode 5 – The Harmful Myth of High-Functioning and Low-Functioning Autism; An Autism Fathers' Group; Guest Dr. Robert Naseef
Listen to the Podcast!
Overview
Re-thinking the commonly used language that has proven detrimental to understanding the autistic person.
Barry and Dave examine the potentially damaging dichotomy of so-called "high-functioning" and "low-functioning" autistic individuals. The hosts make a compelling case for eliminating these terms from our conversations about autism and autistic people. Clinical psychologist and father of an autistic Black man, Dr. Robert Naseef, joins us to discuss the effects of systemic inequities on underprivileged families dealing with autism and his burgeoning Fathers' Group, which provides a comfortable environment for men to open up about their child's diagnosis. And we bestow upon one lucky fan our Enthusiasm of the Week! Award.
Continue the Discussion
Do you have a book or podcast club? If so, you may use this discussion guide to facilitate a conversation about this episode.
1) Robert states that he has developed as a professional in his career, and while simultaneously raising a son, he has shifted his perspective about individuals with autism and disabilities. What are some of the major changes that he has experienced? How have you grown in your role as a parent or professional, and what do you hope to achieve on your journey?
2) Robert has shared that his son is a man of color who doesn't speak. Especially now during the pandemic, he has stated that his son has taught him a lot about white privilege and systematic racism. What has he learned, and do you experience this in your work? How can we be more responsive to those who are in ethnic and/or racial minority groups?
3) As part of his work as a clinical psychologist, Robert is now focusing on support groups for fathers. What are some of the special challenges that fathers of autistic children face? What does he say is helpful in interacting with any parents who have a child or family member on the spectrum?
About the Speaker
Dr. Robert Naseef practices at Alternative Choices which was founded in 1990 with Cindy N. Ariel, Ph.D. They have a general practice with a specialty in helping families of children with autism and other special needs, including Autism Spectrum evaluations for all ages. Dr. Naseef serves as a consultant to school districts, special education parent organizations, attorneys, Pennsylvania Bureau of Disability Determination, and other groups.
When Dr. Naseef's son Tariq was diagnosed with autism at age 5, he thought he could change him. It turned out that the acceptance of his son changed him and helped him to become the man and father he needed to be. He thought his son would be a better version of himself. It turned out he was fine as he was and is.
Dr. Naseef is keenly interested in photography, gardening, and writing.
You can purchase Dr. Naseef's book Autism in the Family: Caring and Coping Together and listen to his TEDX: How Autism Teaches Us About Being Human for more on his work.
About the Uniquely Human Podcast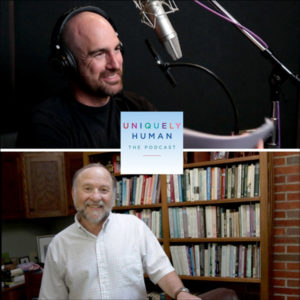 Hosted by autism scholar and author of Uniquely Human, Dr. Barry Prizant, and autistic humorist and author Dave Finch (The Journal of Best Practices), Uniquely Human: The Podcast expands the conversation on autism and neurodiversity by amplifying the voices of autistic individuals and thought leaders in providing insightful, cutting-edge and practical information about the autistic experience.
@uniquelyhumanpodcast (Instagram)
@uniquelypodcast (Twitter)