A quarter of adults with autism who use developmental disability services are not working or participating in other structured activities during the day, with only 14 percent holding a paying job in the community, according to the A.J. Drexel Autism Institute.
Since 2015, the Institute has produced a National Autism Indicators Report. The past two reports showed that adults with autism have difficulty transitioning into jobs. This year's version, "National Autism Indicators Report: Developmental Disability Services and Outcomes in Adulthood," delved into the lives and needs of adults with autism who use developmental disability services — an estimated 111,000 nationwide.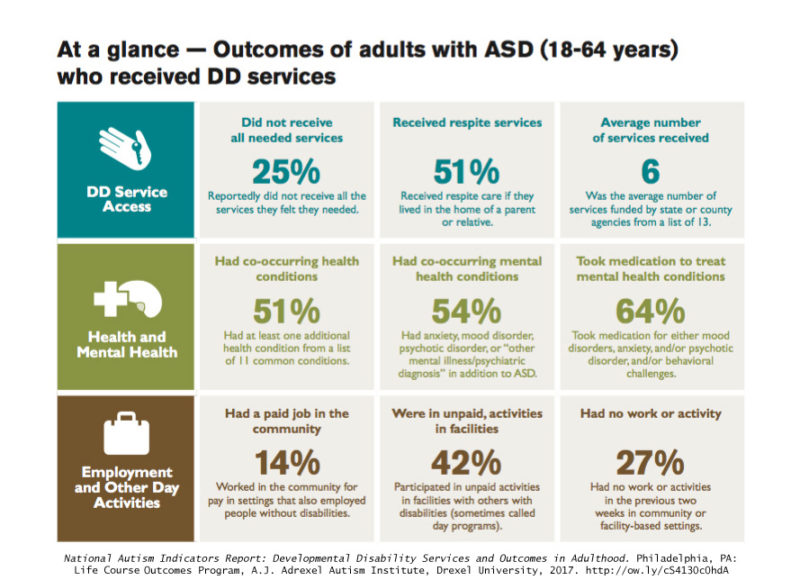 "Billions are spent each year on services for people on the autism spectrum," said Paul Shattuck, PhD, associate professor in Drexel's Dornsife School of Public Health and director of the Autism Institute's Life Course Outcomes program, which produces the annual reports. "Relatively little is spent trying to understand the types and amount of services people need, as well as the services they actually end up getting or the outcomes of them. This latest National Autism Indicators Report continues our tradition of publishing dashboard-like statistics about how life is turning out across the course of these people's lives."
For the third year of the report, Anne Roux, a research scientist on Shattuck's team, led a group that looked at data from 3,500 adults who used developmental disability services and took the 2014-15 National Core Indicators Adult Consumer Survey. This is a survey used by some states to monitor the effectiveness of their services.
In addition to the distressing information on lack of work and activities for most recipients the research team found that 25 percent did not believe they were getting the full services they needed.
"This dovetails with our team's earlier reports on the 'services cliff' that transition-age youth encounter when they leave special education but have difficulty accessing services they may need to become employed, continue their education, or live more independently," Roux said.
Families Shouldering Much of the Care
Although respondents indicated that they are using, on average, six different developmental disability services, the report showed that "families are shouldering a lot of care," according to Roux.
Just under half of the survey-takers lived with their parents or relatives, and the majority (81 percent) had been there an extended time, at least five years. Of this population, 38 percent received no paid, in-home supports.
Reported rates of mental health conditions were high in the survey respondents. Over half had at least one of the measured conditions, like anxiety or mood disorders, and use of psychotropic drugs (six in 10 respondents) was higher than in the population who used developmental disability services but didn't have autism.
There were some inconsistencies that the research team discovered between the survey results and past published findings.
"People reported high levels of satisfaction with where they work and live and the services they receive," Roux said. "This simply doesn't line up with the frustrations we hear from adults with autism and their family members. Many are truly dissatisfied with their quality of life and the difficulties they have finding services that could help improve their situation."
The report is a snapshot of a segment who are receiving services. Roux, Shattuck, and the rest of the team know there is likely a sizable population of adults with autism who don't receive developmental disability services and really need them.
"Some states don't provide developmental disability services for adults with autism unless they also have intellectual disability," Roux explained. "These policies ignore the fact that many with autism are cognitively-able but still have tremendous challenges navigating the social, organizational, and communication demands of adult life."
"It's critical that we identify, evaluate and promote state policies that appropriately recognize and adequately meet the unique needs of adults with autism spectrum disorder who use, or need to use, state developmental disability services," added Shattuck. "Without that we will continue to struggle to improve the quality of life for those who use these services."
This article is reprinted with permission. You may view the original article, published on May 24th, 2017, at http://drexel.edu/now/archive/2017/May/National-Autism-Indicators-Report-Finds-Low-Employment-for-Adults-With-Autism-on-DD-Services/.