Sam Wilkinson always knew he would go to college. However, he recalled having some doubts after enrolling in AHRC New York City's Melissa Riggio Higher Education Program (MHREP) at the Borough of Manhattan Community College (BMCC). The program provides a fully inclusive higher education experience for students with intellectual and developmental disabilities. With the support of peer mentors, MRHEP students attend college classes. Peer mentors help students manage their workload, take notes in class, attend study sessions, and much more.
Wilkinson, who has autism, was struggling with writing papers. Wilkinson said he could read and knew the words he wanted to write but added his "brain froze" when it came to putting them on paper. His peer mentor at MRHEP worked with him one sentence at a time, and eventually Wilkinson could write papers again. The problem stemmed, he said, from when a teacher he had as a child used writing as punishment. He'd have to write what he did wrong and apologize. "With my mentor's help, I was getting back the most important ability for a college student," Wilkinson said.
First MRHEP Student to Earn Associate's and Bachelor's Degrees
Wilkinson was the first person from AHRC NYC's MRHEP to earn a bachelor's degree from Hunter College. He knows it was quite the accomplishment and he said his parents are beyond proud of him.
"We couldn't be prouder," said Sara Barrett, Wilkinson's mother. "He works so hard. The things that he has accomplished have been difficult for him. He doesn't give up. He sees the goal and wills himself to achieve it."
However, he feels the pandemic robbed him of a proper graduation, like the huge ceremony at Madison Square Garden he enjoyed when he matriculated while receiving support at the MRHEP at the BMCC when he earned his Associates Degree. Last year, Hunter College's graduation was done via Zoom; department heads read off names and a month or two later Wilkinson received his diploma in the mail. "I felt like I did all this work and it just ended," he said.
Sam was not alone in his pursuit of higher education. Graduating from college is becoming a goal for many young adults with autism, according to several studies.
Wilkinson thrived in art (especially drawing), photography, and sculpture at Hunter and BMCC.
"This felt like the right step, and it looks good on the resume," he said. "I need every little edge I can get."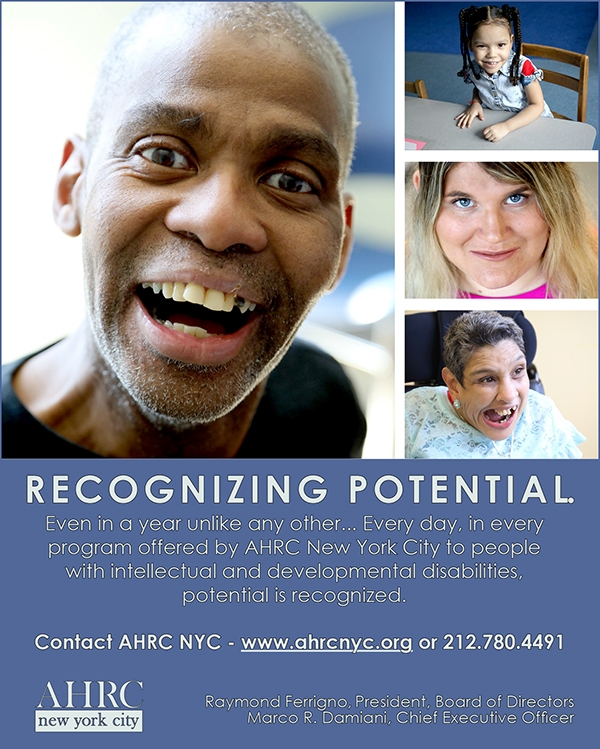 MRHEP Provides Foundation for Success
Attending MRHEP with peer mentors to help him in a variety of ways provided a solid foundation for him. "MRHEP allowed me to acquire the skills, such as certain social skills, I needed to survive the college life without having to pick them up hard way," he said. The program also helped Wilkinson learn to navigate the complexities of a community college and other parts of academic life he had never experienced, Barrett added.
While earning his bachelor and associate degrees, Wilkinson had to advocate for himself. "There's a reason why one of the non-college classes a MRHEP is a self-advocacy course," he said.
Wilkinson said without the support of a team – AHRC NYC staff members at MRHEP, his family and friends – he never could have accomplished what he had in higher education.
"Despite being intellectually capable, students with ASD often do not make it to graduation. Only 44% of college students with ASD receive their degree – significantly less than the 60% graduation rate for all disability groups and the 67% rate for the general population."1
Multiple studies suggest that support, such as peer mentors used at MRHEP, and special accommodations on exams and papers, are keys to success for college students with disabilities.
Social integration struggles appear to be a hallmark of the college experience for students with ASD, with 50 percent of students reporting difficulties not only obtaining and maintaining friendships, but also participating in college social events, which are often overstimulating.2
Once Wilkinson matriculated as a full-time student at BMCC and later at Hunter, he needed only minimal accommodation, said Jessica Giorgio, Director at MRHEP at BMCC and the College of Staten Island. "He was able to manage it," she said. Wilkinson's work ethic wasn't lost on Giorgio. "Sam shows you that anything is possible with hard work. He makes you want to be a better person and never gives up."
Wilkinson has spent much of the pandemic in upstate New York with his parents.
He's been looking for potential jobs, but it's difficult when he's not home in New York City, where he can be more independent. He's spent the last six months studying to become certified as a teaching assistant, an idea he considered since his days at Rebecca School. He'd prefer to work with elementary or lower middle school students. "Just before you have to learn all the complicated stuff," Wilkinson said.
He offered plenty of advice for students with autism who join the MRHEP or wish to attend another college program.
"Even if you're on the spectrum, it doesn't mean your life has to be a downhill slope," Wilkinson said. "There are a lot of people who have made disparaging comments to me in the past, such as 'if you're on the spectrum in any way you don't have prospects for the future.' You were believed to be headed for one of the most dead-end jobs in the world." He said people with autism could run the paper shredder in the office, but not the copy machine, because that was too complex, requiring more than three steps.
"I just hope I'm not the last person to prove these people wrong," he added.
A Real Transition Period
Sam's parents continue to hold high expectations for their son. Research has shown that families of youth with disabilities who keep higher expectations will see their child achieve greater academic success.
"People often underestimate him," Barrett said. "Often they see his difficulties before they see the person he really is. We see all that he has within him and what potential there is. We don't want him to stop aiming high. We don't want him to give up. We want him to have a full and rich life and have the life that he wants. We want to help him get there."
Barrett is uncertain what the future looks like for Sam. "For us, this is a real transition period, like it is for all students who have graduated and look for the next step," she said. "We feel like there are lots of possibilities. He's open to our suggestions, but Sam is very clear about what he wants to do or doesn't want to do. We have to let him make those choices himself."
For more information, please visit www.ahrcnyc.org.
Footnotes
Van Hees, V., Moyson, T., & Roeyers, H. (2015). Higher Education Experiences of Students with Autism Spectrum Disorder: Challenges, Benefits and Support Needs. Journal of Autism and Developmental Disorders, 45, 1673-1688.
Jennifer C. Sarrett, Autism and Accommodations in Higher Education: Insights from the Autism Community, 48 J. Autism & Dev. Disorders 679, 680 (2018)