AHRC NYC Program Fuels Desire to Help Others Pursue Higher Education
Meghan Mattei models herself after pioneers such as Erin Brockovich and Temple Grandin. "I want to be a self-advocate and advocate for children and adults with disabilities," she says. "I will fight for our rights."
At 25, Mattei is in her senior year at AHRC New York City's Melissa Riggio Higher Education Program (MRHEP) at the College of Staten Island (CSI). AHRC NYC has partnered with The City University of New York and the New York State Office for People With Developmental Disabilities fully inclusive higher education program for students with intellectual and developmental disabilities (I/DD) in New York City. The program prepares young adults with intellectual disabilities for adult life through higher education coursework, campus life, civic engagement, self-advocacy curriculum, and career development.
Students are fully included in college courses. Peer mentors help them manage their workload, attend study sessions, make appointments with professors, take notes during classes, and much more. The MRHEP experience is empowering; however, the students don't earn a degree, and that bothers Mattei.
More College Supports Could Ease Matriculation
"Four years is not enough," she said, referring to the program. For her senior project, Mattei is focusing on colleges providing more opportunities for students with disabilities, if they wish, to be fully matriculated so they can earn a degree. Colleges also should provide supports, setting up students with intellectual and developmental disabilities (I/DD) for success, she said. The idea came to Mattei during the pandemic, when she was forced to take virtual classes in her sophomore and junior year.
Mattei is on the right track, according to a recent article, "Advancing Access to Higher Education for Students with Intellectual Disability in the United States."1
Currently, over 6,000 students with I/DD are enrolled in 310 colleges and universities. The impact of higher education on employment and earnings is forecasted to remain strong, with the Georgetown University Center on Education and the Workforce predicting 70 percent of all jobs will require some education beyond high school by 2027.2 Yet, the current special education system ends for most people with I/DD by age 21. How can better for students with disabilities be expected if their learning ends after high school?
Participation in post-secondary education has several benefits beyond employment and social integration. Students with I/DD enrolled in post-secondary education reported better physical health, healthier relationships, and higher rates of volunteerism as compared to a control group not enrolled in higher education.3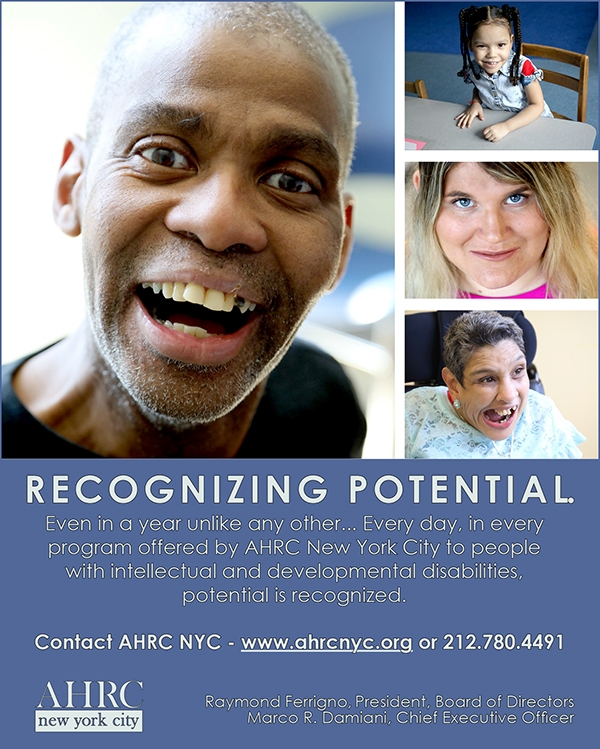 Jessica Giorgio, MRHEP Program Director for CSI and the Borough of Manhattan College, said Mattei has taken steps toward her goal. She recently presented with Giorgio to a group of students applying for MRHEP. "Meghan has a star quality," Giorgio said. She takes her studies seriously and has an interest in psychology, child development and language development, Giorgio added. "She takes advantage of campus life, going to the library, going to the gym to work out and the cafeteria."
Mattei was diagnosed with autism at age two-and-a-half. With in-home early intervention supports, she began to speak about a year later. Her spontaneous language started around age five.
As an educator, Mattei's mother, Mia, struggled with the diagnosis. "We really did think she was hearing impaired because she wouldn't answer us or respond to loud noises around her," Mia said. Her daughter was diagnosed with a hearing loss on her left side. She responded with the use of hearing aids. Mattei also benefited from Applied Behavioral Analysis.
Mattei struggled with language and communicating appropriately, Mia said. "School gave her the skills she needed to communicate, and she learned to use language appropriately," she said.
While attending Eden II in Staten Island, Mattei said she learned to speak, read, write, make friends and care about others and her community. She had an internship at Alice Austen House, where she took photographs, developed them in the dark room, and did office work.
A Defining Moment
When Mattei's school was robbed, she knew she had to do something. It marked the start of her interest in advocacy and fundraising. Thieves made off with toys, teaching materials, video consoles and even the class hamster. She started fundraising for the school to replace the stolen items, she said. The manager of Learning Express Toys was so impressed these efforts that she offered Mattei a job and a discount on any toys she purchased for the school. She stocked the shelves and opened packages. Mattei donated her first paycheck to the school. She held the job, which she got on her own, for three years.
"When she likes to do something and feels a purpose for doing something, she pursues it," Mia said. Her daughter held yard sales to raise funds for the school.
Shortly after starting in MRHEP at the College of Staten Island, the pandemic forced classes to go remote.
"During COVID, we saw a lot of regression," Mia said. "She lost a lot of social skills and eye contact."
Mattei missed attending classes in person. In September 2020 she started an internship with The Sensory Studio in Staten Island, which provides developmental services to improve communicative, fine and gross motor skills. It was the breakthrough she needed and got her out of the house. "That was a true blessing," Mia said. "When she walked in those doors, she walked into a professional setting with people her own age."
"It changed my life," Mattei said. "I regained my social skills and it made me feel part of a team."
Alexa DeVito, Practice Manager at The Sensory Studio's Southshore location, calls Mattei a "bright light." "She brings in so much good energy," she said.
Mattei is the first person with a disability to join the Sensory Studio team. DeVito was so impressed with Mattei during the interview, that she spent longer than usual with her. Initially, Mattei was nervous around the children, DeVito recalled, adding that today Mattei excels with them. As the co-intern manager, Mattei is DeVito's assistant. Mattei and her professional approach to the position, could lead to a paying job, DeVito said.
"With every new thing, she amazes me," Mia said. "We give her opportunities to do things she wants to do."
For more information, please visit www.ahrcnyc.org.
Footnotes
Grigal, M.; Dukes, L.L., III; Walker, Z. Advancing Access to Higher Education for Students with Intellectual Disability in the United States. Disabilities 2021, 1, 438–449.
Blumenstyk, G. By 2020, They Said, 2 Out of 3 Jobs Would Need More Than a High-School Diploma. Were They Right? The Edge: The Chronicle of Higher Education. Available online: https://www.chronicle.com/newsletter/the-edge/2020-01-22 (accessed on 1 November 2021)
Butler, L.N.; Sheppard-Jones, K.; Whaley, B.; Harrison, B.; Osness, M. Does participation in higher education make a difference in life outcomes for students with intellectual disability? J. Vocat. Rehabil.2015, 44, 295–298.