There is an emerging though limited body of research demonstrating the effectiveness of theatre-related activities to teach emotional recognition and expression, non-verbal behaviors and gestures, listening and conversation skills, eye contact, as well as strategies to handle a variety of social situations. Theatre arts offers a safe place for youth with Autism Spectrum Disorder (ASD) and other developmental disabilities to learn and experiment with new behaviors, make mistakes to learn from them, form meaningful relationships with others and develop critical communication skills transferable to activities of daily life.
Traditional education and treatment methods for ASD have been demonstrated to teach valuable skills; however, generalization has long been a problem. That is, it has been a challenge for individuals with ASD to take what they learn in controlled environments and demonstrate their knowledge in a correct way, at the right time and in the right place. It is now thought that theatre experiences offer important opportunities for socialization for youth with ASD, but even more important, opportunities to generalize learned skills. Acting involves conveying to others how a character is feeling and thinking. In this way, acting can be used to teach emotional recognition, expression, nonverbal behavior, gestures, listening skills, eye contact, and strategies to handle social situations. Other aspects of theatre including set design, staging, choreography and lighting also rely on social and linguistics skills leading to collaboration, compromise and cooperation. Theatre is a highly structured environment and may fit very well with the sometimes rigid, black and white thinking of individuals with ASD. Activities associated with creating theatre can provide an opportunity for students with ASD to have purposeful and meaningful experiences in a controlled, structured environment.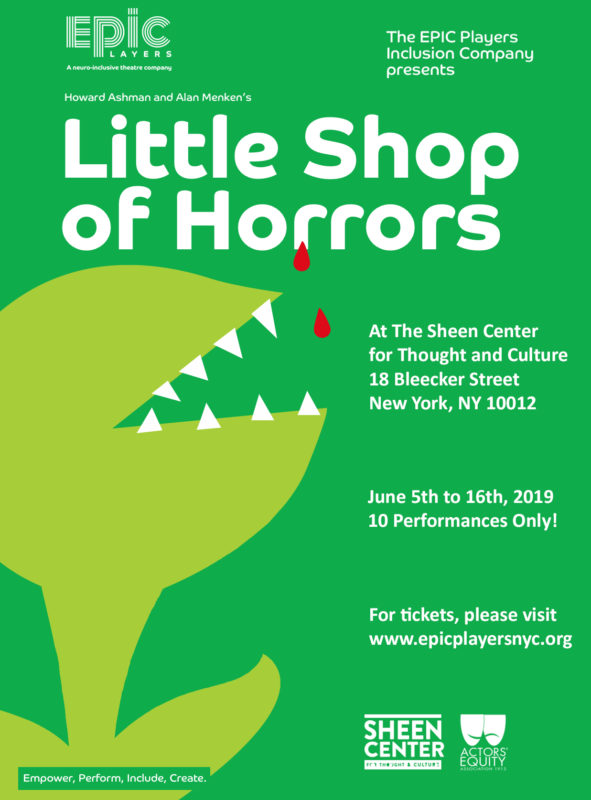 Several theatre programs have involved individuals with ASD, including the widely known Miracle Project in Santa Monica, California. In 2008, the project achieved wide recognition after winning an Emmy award for an HBO documentary profiling five young project participants. Other programs throughout the U.S. have included those at the Florida Repertory Theatre in Fort Myers, Florida; the Phoenix Theatre in Phoenix, Arizona; and the Red Kite Project in the Chicago Children's Theatre. In New York City, The EPIC Players (www.epicplayersnyc.org), a neuro-inclusive theatre company, is one such organization devoted to theatre arts for individuals with developmental disorders including Autism Spectrum Disorder. EPIC Players is dedicated to creating professional performing arts opportunities and supportive social communities through the arts for persons living with developmental disabilities.
Through neuro-inclusive main stage productions, musical cabarets, original showcases, and skills-based arts and career classes, EPIC Players breaks down the social stigma surrounding neuro-diverse communities, increases critical employment opportunities for individuals with ASD and seeks to pioneer increased inclusion in the mainstream arts.
To date, a number of studies have reported results incorporating theatre activities and drama games as interventions for children and adolescents with ASD. In 2015, Ah-Jeong Kim and colleagues in the Department of Theatre at California State University Northridge investigated the impact of participation in theatre on youth with ASD and the possibilities that such participation might yield improvements in personal and interpersonal relationships. Their study explored the impact of inclusive theatre experiences involving the development, rehearsal and performance of theatrical productions on youth with ASD. In the study, eighteen youth with ASD and nine non-ASD peers participated in a 5-week theatre conservatory held as an inclusive collaboration between the University, the Teenage Drama Workshop and The Miracle Project. This partnership culminated in five public performances of an original musical using pre- and post-test questionnaires, as well as structured observation. The examiners evaluated changes among youth in a number of conceptual areas. They found improvements in self-reports of self-esteem, behaviors related to empathy, comfort with others and trust. This study is one of the few efforts to systematically examine the impact of theatre participation on youth with ASD. The authors concluded, and the data supports that, inclusive theatre experiences cull the potential for improving the communication and socialization skills of youth with ASD. Theatre can have a significant and positive impact on self-esteem, empathy and comfort with others.
Additionally, in 2015 Suzanne Redding and colleagues at Butler University provided theatre rehearsal and production for students with ASD in a 10-week theatre experience. These authors found that when compared with a control group, students with theatre experience had significant and positive changes in the development of social and language skills. Most particularly, these students had significant improvement in social responsiveness; the ability to take the perspective of others and work cooperatively.
In the best designed study thus far examining theatre arts and ASD, Blythe Corbett and her colleagues at Vanderbilt University in 2017 examined the efficacy of a peer-mediated theatre-based intervention on social competence in youth with ASD. Thirty participants with ASD, 8 to 14 years old, were randomly assigned to a treatment or a wait list control group. Immediately after the intervention, positive group effects were seen in improvements in social ability, better communication, group play with toys in the company of peers, immediate memory for faces, delayed memory for faces, and theory of mind. Most interesting, and most important, in this study is that results from a two month follow up showed that positive group effects were still detected on communication symptoms. That is, the improvements observed immediately after the intervention were still maintained within participant communications two months later.
Contemporary success stories of individuals living with ASD who have experienced significant growth in communication and interpersonal skills through the theatre arts can be found amongst the EPIC Player's company membership. Through the access provided by EPIC, company members have auditioned for, and won roles in, Off-Broadway productions, television shows, and commercials; some members have even been featured in films shown across the nation.
Rina Pianko, a parent of EPIC Players Company Member writes, "Gideon's participation in this theatre company provides him with a social world of which he is a member. EPIC is also an incredible venue for helping its actors continue to develop as independent adults better equipped to integrate into a broader society. It achieves the critical result of bringing joy and a feeling of success to its members, of accomplishing growth as a performer and as an artist. Gideon and his colleagues feel pride and ownership in their work. EPIC is a space in which they belong and are accepted."
June December, a parent of EPIC Players Company Member writes, "Through the work of EPIC Players my son has learned to speak to people about topics other than his obsessions of video games and movies. Prior to EPIC Players my son only wanted to stay in his room with his video games and movies. Now in his second season of EPIC Players, he looks forward to the classes they provide, going to rehearsal for the Mainstage Production of which he has the lead role, and learning new skills like voice over work and on camera work which has now become a dream of his. Through the work of EPIC Players his abstract thinking ability has increased, and he is able to vocalize what he would like his future to be."
Finally, Ben Rosloff, an EPIC Players Company Member with ASD, now a paid AEA Actor tells us, "I joined EPIC one year ago, and it is such an important part of my life. The first time I attended a class, I had to learn what people do in theaters and how they act professionally. I traveled to Brooklyn by myself and I took a voice and movement class. At first, I didn't know any of the people or any of their names. Aubrie gave us sample scripts to read and we tried to act out the scenes. When it was my turn to perform, people were excited about what I was doing and how I was acting…. When Aubrie had me audition for Shakespeare's last play, The Tempest, at first I wasn't sure that I could remember all of the lines. But she gave me some scripts and she chose me to be Ferdinand, Prince of Naples, son of King Alonso. It took me time to remember all of the lines, but at the end I did it and it was really fun to be performing with the rest of the cast who are now my friends…. The best part about EPIC is learning how to act in TV shows, films and theater. We have classes, parties and we go out together to celebrate special occasions or just have fun. EPIC is helping me and the others get jobs, earn money and become real performers. EPIC is helping us have great futures."
Organizations and research studies such as the ones cited above are critical in helping youth with ASD overcome what is thought to be their most significant challenge: theory of mind. Understanding the thoughts and feelings of others is a key challenge for individuals with ASD. This challenge in ASD often prevents participation in social routines, meaningful conversations, group activities and engagement in behaviors that indicate a willingness to cooperate, collaborate, and demonstrate an understanding of the feelings of others. Theatre arts offers promising new experiences for individuals with ASD to build accurate theory of mind, communication and social skills.
This summer, the EPIC Players Inclusion Company will perform a neuro-inclusive production of a Little Shop of Horrors in New York City at The Sheen Center for Thought and Culture starting June 5th for 10 performances through June 16th. For more information and to purchase tickets contact EPIC at info@epicplayersnyc.org or visit their website at www.epicplayersnyc.org.
Sam Goldstein, Ph.D., is a neuropsychologist, researcher, author and test developer. He has authored the Autism Spectrum Rating Scales and multiple trade and professional books on Autism Spectrum Disorders, including Interventions for Autism Spectrum Disorders: Translating Science into Practice (2013, Springer), Assessment of Autism Spectrum Disorders – 2nd Edition (2017, Guilford), and Raising Resilient Children with Autism Spectrum Disorders (2011, McGraw Hill). He is the Clinical Director of the Neurology, Learning and Behavior Center in Salt Lake City, Utah. He is a member of the EPIC Players Board of Directors.
Aubrie Therrien, MPH, Executive Artistic Director of The EPIC Players Inclusion Company, is an experienced non-profit professional with an MPH from New York University. She is a passionate advocate for increased opportunities for individuals living with ASD and other developmental disabilities on stage and screen.
References
Ah-Jeong Kim, Stembridge S, et al. (2015). Neuro-diversity on the stage: The affects of inclusive theatre on youth with Autism. The International Journal of Education and Social Science, 2(9), 27-39.
Corbett B, Key AP, et al. (2017). Improvement of social competence using a randomized trial of a theatre intervention for children with Autism Spectrum Disorder. Journal of Autism and Developmental Disorders, 46(2), 658-672.
Reading S, Reading J, et al. (2015). The use of theatre to develop social and communication behaviors for students with Autism. The Journal of Speech Pathology and Therapy, 1(1), 1-8.