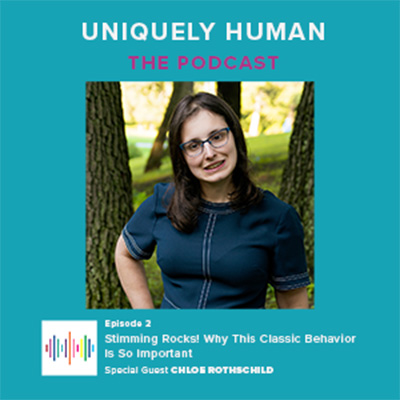 Episode 2 – Stimming Rocks! Why This Classic Behavior Is So Important with Chloe Rothschild
Listen to the Podcast!
Overview
Autistic autism advocate Chloe Rothschild lends her perspective on effective communication strategies, AAC, and interoception.
Barry and Dave share important insights into the benefits of stimming, as we reframe this classic behavior for parents, educators, and clinicians.
Continue the Discussion
1) Chloe feels that AAC and multiple modes of communication are important, even for individuals who speak. Why does she believe this? Have you had personal experiences or have a child, family member or student for whom alternative or augmentative modes of communication have had a significant positive impact on quality of life? How so?
2) Chloe speaks about interoception, and how her growing awareness of it has had a huge impact on her life. What is your understanding of how Chloe's awareness of interoception has helped her. Have you had personal experiences or have a child, family member or student for whom difficulties with interoception have been challenging. Have you found any helpful strategies to help with these challenges?
3) In our discussion of reframing "stims", what are the changes that have occurred over time that help us understand stimming from a different perspective. Have you had personal experiences or have a child, family member or student for whom you can apply our newer understanding of stims. If so, how has this changed your attitudes and actions.
About the Speaker
Chloe Rothschild is a young adult with autism. She is on a mission to teach others about autism by sharing her perspective and experiences in an effort to help others understand autism better.
Chloe enjoys using her talent and love for writing to raise awareness about autism. She writes blogs and operates a public Facebook page, where she shares her story. She also speaks to various groups and at conferences. In addition, Chloe is on the Autism Society's PSA (Panel of People on the Spectrum of Autism Advisors) and the Ohio Center for Autism and Low Incidence advisory board. Chloe is very interested in the topic of interoception; she has co-authoring a book on the topic titled My Interoception Workbook: A Guide for Adolescents, Teens and Adults.
About the Uniquely Human Podcast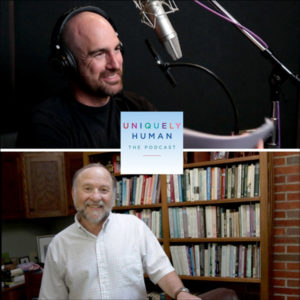 Hosted by autism scholar and author of Uniquely Human, Dr. Barry Prizant, and autistic humorist and author Dave Finch (The Journal of Best Practices), Uniquely Human: The Podcast expands the conversation on autism and neurodiversity by amplifying the voices of autistic individuals and thought leaders in providing insightful, cutting-edge and practical information about the autistic experience.
@uniquelyhumanpodcast (Instagram)
@uniquelypodcast (Twitter)